Jonesborough, Tennessee

Jonesborough, Tennessee, population 22,438, is located in Washington County, TN and 22 miles from Kingsport, TN. Jonesborough is the oldest town in the state of Tennessee. Brick-paved sidewalks lined with quaint shops, inns and restaurants create an inviting atmosphere where history lives at every turn.
The closest airport is Elizabethton Municipal Airport (0A9).

Jonesborough, Tennessee was established in 1779.


Jonesborough Hotels >>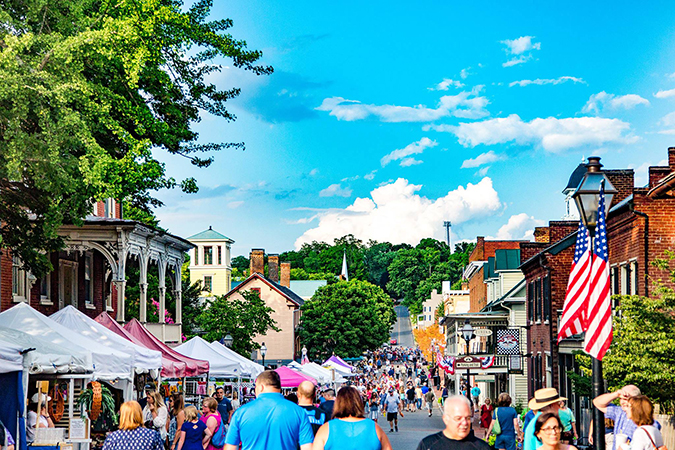 Jonesborough Days

Jonesborough Attractions:

Bays Mountain Park - Facilities include the 3500 acre outdoor classroom, a 44 acre lake, and a nature center/museum. The center houses a planetarium with a 40 foot diameter dome. The park is nestled in the northeastern end of the Bays Mountain formation only a few miles from downtown Kingsport. Framed on all sides by mountain ridges, much of the park lies in a natural basin and is a protected haven for wildlife.

Boone Lake - Boone Reservoir features a swimming area above the dam and a boat ramp including a courtesy pier for safe, convenient boat launching and retrieval. Water skiing and fishing are popular pastimes at Boone. The reservoir is operated for a number of purposes, including power production, flood control, water supply, water quality, and aquatic ecology. Compared with similar reservoirs on tributaries of the Tennessee, Boone generally maintains more stable water levels through the summer season.

Warrior's Path State Park - Warriors' Path State Park was named for the park's proximity to the ancient war and trading path used by the Cherokee. Since that time, the park land has known a long history of travelers, and is still a pathway for modern-day outdoor enthusiasts. The 950-acre area was acquired from the Tennessee Valley Authority is 1952, to serve the people who live in or visit this section of Northeast Tennessee. It is situated on the shores of TVA's Patrick Henry Reservoir on the Holston River.


Jonesborough Festivals:
National Storytelling Festival - The National Storytelling Festival is held in Jonesborough during October. "Over thirty years ago, a high school journalism teacher and a carload of students heard Grand Ole Opry regular Jerry Clower spin a tale over the radio about coon hunting in Mississippi. And the teacher—Jimmy Neil Smith—had a sudden inspiration: Why not have a storytelling festival right here in Northeast Tennessee?

On a warm October weekend in 1973 in historic Jonesborough, the first National Storytelling Festival was held. Hay bales and wagons were the stages, and audience and tellers together didn't number more than 60. It was tiny, but something happened that weekend that changed forever our culture, this traditional art form, and the little Tennessee town.

The festival is one of the Top 100 Events in North America, sparked a renaissance of storytelling across the country. To spearhead that revival, Smith and a few other story lovers founded the National Storytelling Association. The founding organization became the center of an ever-widening movement that continues to gain momentum to this day. Storytelling organizations, festivals, and educational events have popped up all over the world. Teachers, healthcare workers, therapists, corporate executives, librarians, spiritual leaders, parents, and others regularly make storytelling a vibrant part of their everyday lives and work.

The story of how it all started is one that many Northeast Tennesseans are familiar with. As news of the festival and of the movement it spawned aired on national television and in magazines as diverse as Los Angeles Times Magazine, Reader's Digest, People, and Smithsonian, the story of how a happenstance hearing of a folktale on a car radio ignited a national movement often seems to be a fundamental ingredient.

Did the story get told again and again because people like stories about innocent beginnings, or because they like to marvel over what can happen with the serendipitous timing of a good story and a carload of receptive listeners, or simply because it's a colorful tale? No matter the reason, it's a classic example of how a simple story breathes life into information people want to share with each other. As millions of storylovers all over the world already know, there is no substitute for the power, simplicity, and basic truth of the well-told story."

Jonesborough Days - Celebrates Independence Day with various events, including a Magnolia Ball, kickoff dinner, and a parade. The parade leads to singing and dancing on the main stage, performances at the Jonesborough Repertory Theatre, villages featuring a Civil War Encampment, Native American Camp, Hispanic-themed children's area, Celtic area, children's stage, country fair, crafters, food vendors and of course, the town's own hometown specialty shops and variety of restaurants. A tremendous fireworks display will complete the day.

• A Civil War Encampment (Alabama 19th Civil War Encampment) - This group of re-enactors set up a working telegraph, a hospital, a kitchen, along with sleeping quarters and other communal areas.

• A Native American Village is also set up by the Appalachian Confederated Tribe which have an expansion of their hunting and gathering village.

• A Celtic Village is presented by the Upper East Tennessee Celtic Society. See armor and swords being made, try some authentic Celtic foods or research your family heritage.

• Fiesta de Ninos, a Children's Fiesta Village, has a Hispanic theme with games, music, dancing, food, and, of course Pinatas.

A feature of Jonesborough Days is a County Fair. The County Fair has children's games, miniature horse & buggy rides, cow train rides, a goat tower walk, a mechanical bull, obstacle courses, a tricycle maze, and much more.

Jonesborough Repertory Theatre presents a USO show with 1940s music and costumes.

• Crafters Village - The Crafters Village is located on the west side of the Jonesborough courthouse and hosts about 75 craft booths.

1940s in Jonesborough - As festival goers walk by the Historic Eureka Inn or into the Repertory Theatre, they are greeted by scenes of what life might have been like in the 1940s in Tennessee's oldest town. Veterans will be on the porch of the Eureka reminiscing and sharing war stories. They will be assisted by Rolling Thunder. There will also be 1940s vehicles and decorations.

Day of Dance Contra Dancing and Workshops - The Historic Jonesborough Dance Society will be at the Visitors Center on Saturday hosting contra dance workshops and then a dance in the evening.

Doc McConnell's Old Time Medicine Show - Jonesborough's friend, Doc McConnell, performs his Old Time Medicine Show. This is an all-time favorite family activity folks will not want to miss. It brings back a wonderful feeling of days gone by. Doc performs on the patio in front of the International Storytelling Center.

Stump Speeches - Join local politicians for old-timey stump speeches complete with cane and timer. Each candidate will be given exactly two minutes to "plead their cases". After two minutes, if they are not finished, they get pulled off with the cane. The stump speeches are held near the gift shop in front of the International Storytelling Center. They take place immediately following the parade.

Tri-State Antique Power Association - Antique tractors and other power equipment are on display on West Main Street in front of the Methodist Church.
www.jonesboroughtn.org


Storytelling Wide - Storytellers from across the country entertain Tuesday thru Saturday at 2:00 p.m., May 30-October 28. Held at the International Storytelling Center. Admission charge.

Pangaea World Music Festival - The Pangaea World Music Festival offers enriching and exciting entertainment and educational opportunities to families throughout the region. The festival celebrates a uniquely varied range of music: Celtic, African, American, Jazz and Cajun among others. Musically, the focus is on quality, originality and talent. Entertainers also bring delightful stories about their music to further enhance their performances. Workshops with music-related themes (techniques, instrument-building, musical repairs, etc.) are offered as part of the festival.

Tennessee Quilts QuiltFest - QuiltFest is the largest quilting event in this region, drawing quilters not only from Tennessee, North Carolina and Virginia, but from throughout the United States.

Kingsport's Fun Fest - Twelve new events join the fun this year: the Blue Lizard/Foot Rx Crazy Mile; Family Movie Night; Glass Fest; Up to Par "Glowball" Night Golf Tournament; Hands On With Zig; Lagers, Ales and Food; Fun Fest Giant Screen Movie; Page to Stage Playwright Festival; Tri-State Singles Inc. Singles Dance; Xtreme Showdown skateboard and BMX bike exhibit; a CareerBuilder.com exhibit; and the WCQR Christian Concert featuring Chris Rice.

Sycamore Shoals Celtic Festival - The festival began in Jonesborough in 1996 and moved to Sycamore Shoals in 2000 where it could be held for two days rather than one. We treasure our heritage in the Appalachian Mountains and those who claim Celtic ancestry yearn to know more. It is the desire of the Sycamore Shoals Celtic Festival to share living, belonging and life with all kindred Celtic spirits through food, fun and frolic.