Memphis, Tennessee

Memphis, Tennessee has a population of 652,236. It is located in Shelby County, TN close to the borders of Arkansas and Mississippi.
Memphis was founded in 1820.

AARP named their top 50 attractions in Tennessee. Eleven of the association's 50 favorites are in Memphis, including the Memphis Brooks Museum of Art, The Dixon Gallery and Gardens, the Memphis Zoo and Graceland.

The closest airport is Memphis International Airport (MEM).

Memphis Hotels >>
Enjoying a towering pyramid without a long flight to Egypt
MEMPHIS, Tennessee – You may never travel to Egypt's Great Pyramid of Giza, whose glory once reflected in a branch of the Nile River, but you certainly can get to the Pyramid in Memphis, which gleams in the sunshine right beside the mighty Mississippi River.
Memphis is no Caribbean cruise port, so use your imagination
MEMPHIS, Tennessee – Travel is opening up, but it still will be awhile before large numbers of people are sunbathing on Caribbean cruise ships and strolling on Caribbean beaches. However, Memphis, a decidedly non-Caribbean destination, does have some slightly comparable activities at its 4,500-acre Shelby Farms Park – if you have a good imagination.
• Walking across the Mississippi River in Memphis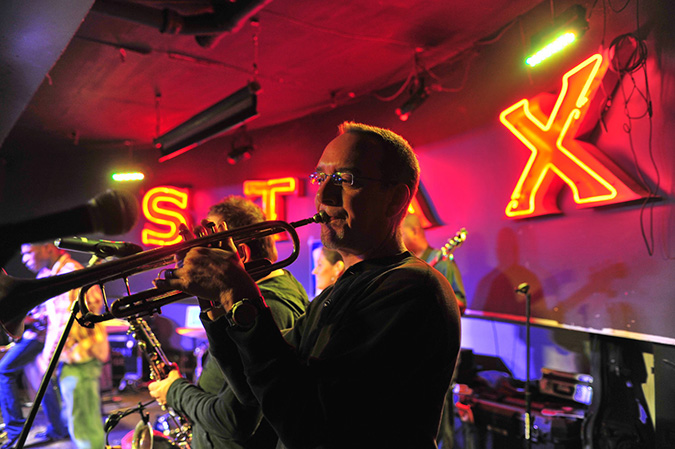 Beale Street blues; image courtesy of Beale Street
Memphis Hotels

Big Cypress Lodge Memphis

The Peabody

The Westin Memphis Beale Street


River Inn of Harbor Town


The Central Station Memphis

Courtyard by Marriott Downtown Memphis

Memphis Attractions:
Alex Haley House and Museum - Originally known as the Palmer House, this 10-room, turn-of-the-century, bungalow home was built in 1919 by Will E. Palmer, the maternal grandfather of Alex Haley (1921-92). From 1921 to 1929, and during some subsequent summers, Haley lived here with his grandparents. The front porch was often the place where young Haley heard the oral accounts of family history, including stories of Kunta Kinte, the young Mandingo man captured near his West African home. These stories inspired Haley to write about his ancestry in a book called Roots
. This 1976 Pulitzer Prize winning novel has been translated into over 30 languages and has had great influence in stimulating the study of genealogy. Roots was adapted for an eight-part television series, which became one of the most popular programs in television history.

On December 14, 1978, the Alex Haley House was listed in the National Register of Historic Places. It has attracted scholars and other visitors from around the world. Alex Haley is buried on the grounds.

Art Museum of the University of Memphis - Since its opening in 1981, the museum has acquired the permanent collections it houses today—Egyptian antiquities, tradition-based African art and contemporary prints and drawings.

Beale Street Entertainment District - Located in the heart of downtown Memphis with three blocks of more than 30 nightclubs, restaurants and retail shops. Music includes traditional Blues, Rhythm and Blues, Jazz and Rock 'n' Roll.

Belz Museum of Asian & Judaic Art - The museum is unofficially called "The Jade Museum," since one of the main materials featured is jade in sculptural form. The main Asian collection features artworks from the Qing Dynasty, the last dynasty of China, which ran from 1644-1911. The Judaic Gallery, which opened to the public in the fall of 2004, contains over 200 works of art created by contemporary Jewish artists working and living in Israel today.

Center for Southern Folklore - The Center is a non-profit organization that showcases and celebrates the wonders, lifestyles, people, history, and cultures of the South.

Children's Museum of Memphis - Kid-friendly environment. Brain-shaping results. For the price of admission, you can spend the entire day in the award-winning Children's Museum of Memphis, where learning is child's play. Children lose themselves in the world of playful learning at dozens of interactive exhibits.

Davies Manor Plantation - This historic property, located in Bartlett, features the oldest log home in Shelby County open to the public, along with thirty-two surrounding acres and numerous outbuildings. These outbuildings include a former tenant farmer's cabin, a commissary, a gristmill, and two nineteenth-century log cabins that were relocated to Davies Manor in 2007 from Libertyland.

Dixon Gallery and Gardens - The gallery features permanent exhibits along with temporary exhibitions throughout the year. There are also various gardens landscaped in the manner of an English park with open vistas adjacent to smaller, intimate formal spaces.

Graceland - Explore Elvis Presley's home, Graceland Mansion. Fully immerse yourself in Elvis' life and career like never before at Elvis Presley's Memphis as you experience Elvis' roots, his influences, and his artistry. Savor delicious Memphis cuisine at our themed restaurants.

Magevney House - This small, white clapboard cottage was built in the 1830s and was home to Irish immigrant, Eugene Magevney. Typical of pre-Civil War, middle-class homes, it is furnished as it might have been in 1850 and features several personal possessions of the Magevney family, including a desk bureau and other antiquities.The house is one of the city's oldest remaining residences.

Mallory Neely House - Listed on the National Register of Historic Places and located at 652 Adams Avenue in the Victorian Village Historic District, the Mallory-Neely House is one of the City's treasured historic sites. It is all the more special in that it retains all of the original historic interiors, furniture, and artifacts almost exclusively. It offers a visceral experience walking through the home and lives of a family from over one hundred years ago.

Memphis Brooks Museum of Art - The Memphis Brooks Museum of Art enriches the lives of our diverse community through the Museum's expanding collection, varied exhibitions, and dynamic programs that reflect the art of world cultures from antiquity to the present.

Memphis Cotton Museum - When you visit the Cotton Museum, you're treading on the legendary floor of the Memphis Cotton Exchange where cotton traders once stood at the center of the global cotton economy. Once, only the elite members of the Cotton Exchange were allowed to enter. Today, this historic space is open to the public and is devoted to sharing the story of cotton – the crop that created empires, transformed American culture and changed the history of a nation and the world.
Memphis Music Hall of Fame - What began as a tribute to Memphis' legendary musicians who shook the world has finally opened as a museum that is as outrageous as its inductees! The Memphis Music Hall of Fame museum and exhibition introduces guests to some of the greatest musicians of all time – each responsible for shaping modern music and changing the world forever right here in Memphis. This fun, fascinating and educational exhibition features never-before-seen memorabilia, rare video performances and interviews, interactive exhibits, and much more.

Memphis Railroad & Trolley Museum - The story of the two railroad bridges across the Mississippi River at Memphis and their significance in the history of the city. View a trolley exhibit, a freight tunnel, wagon memorabilia, and much more.

Memphis Rock 'N' Soul Museum - At this Smithsonian affiliate just steps from Beale Street, you'll learn how Memphis became a crucible for the blues, rock 'n' roll and soul.

Memphis Zoo - From the time you step inside the grand entrance, you know you're in a very special place. The main entrance and courtyard pays honor in its design to the ancient city of Memphis, Egypt. The meandering streams, crisp waterfalls, native plants and tranquil gardens alone are a great reason to visit. Come play around in the Memphis Zoo. Hop on the tram and see everything from exotic animals to the petting zoo and everything in between.

Metal Museum - Founded by artist-blacksmith James Wallace, the museum is devoted to exhibitions of metalwork and public programs featuring metalsmiths.

Mississippi River Museum & Aquarium - Features animals and exhibits, historical collections and archives, conservation and research. Its National Rivers Hall of Fame collects, preserves, and shares the stories of the women and men who have had a significant impact on the rivers of America.

National Civil Rights Museum - The National Civil Rights Museum at the Lorraine Motel is a very special experience that takes visitors through centuries of history. Visitors begin within the original Lorraine Motel structure and continue through the Legacy exhibits within the Young & Morrow and Boarding House buildings across Mulberry Street.

Pink Palace Museum -covers all things about the Mid-South: natural history, wildlife, Memphis history, the cotton industry, plus rare oddities like a shrunken head and Elvis Presley's military uniforms.

Slave Haven Underground Railroad Museum - A walk through this antebellum home is a journey through history, revealing secrets of its past that had been kept hidden for more than 100 years.

Southern Folklore Gallery - The Center for Southern Folklore offers a wide variety of events, programs, and customized tours that showcase the music and cultural history of the Memphis/Delta region. To top off the programs they serve yummy southern comfort food.

Stax Museum of American Soul Music - The Stax Museum of American Soul Music is the world's only museum dedicated to preserving and promoting the legacy of American soul music. Located on the original site of the Stax Records studio in Memphis, the Stax Museum pays special tribute to the artists who recorded there, as well as other American soul legends, with a rare and amazing collection of more than 2,000 artifacts, interactive exhibits, films and galleries.

Sun Studio - Sun Studio is known worldwide as "The Birthplace of Rock'n'roll". It is the discovery location of musical legends and genres of the 50's from B.B. King and Elvis Presley to Johnny Cash and Jerry Lee Lewis; from Blues and Gospel to Country and Rock'n'roll. Today its goal is to spread the story of Memphis' history and culture through the music that put Memphis on the map.

T.O. Fuller Golf Course - The T. O. Fuller State Park Golf Course is located in the southwest corner of Memphis. Gently rolling hills and mature trees dominate this 18-hole golf course. Accented by color-infused scenery and native Tennessee vegetation, this 5,986-yard, par 72 course features wide fairways and Bermuda greens. The course's signature hole is a 196-yard, par 3, requiring an accurate tee shot to reach a small elevated green.

Wolfchase Galleria Mall - Wolfchase Galleria features Dillard's, JC Penney, Sears and Macy's plus 130 of the most exciting stores in the Mid-South. Stores like American Outfitters, Hollister Co., Fossil, bebe, Brooks Brothers, Wet Seal, Guess, Banana Republic, Gap, Pottery Barn, dELiA*s, The Disney Store, Journey, and Thomas Kinkade Gallery. While you're shopping at Wolfchase be sure to enjoy a variety of delicious foods at your favorite eateries located in the Food Court or one of two restaurants located in Wolfchase Galleria. To make your trip complete, take in the latest movie at the Malco Theatre or a ride on the fantasy carousel.

Withers Collection Museum Gallery - The Withers Collection Museum and Gallery is 7,000 square feet of Memphis and American History. In February 2011, The Withers Collection opened its doors to the public, inviting everyone to see what Dr. Ernest C. Withers had accomplished. With close to 1.8 million images in the archive, you can imagine what a labor of love it was to sort, preserve, and print the images they chose to put on display, a labor of love that isn't even close to completion. The images on display range from key Civil Rights Movement events to legendary blues and jazz performers. Martin Luther King, Jr., B.B. King, "The King of Rock and Roll," and "The Queen of Soul," can all be seen, captured in their elements, in beautiful black and white photographs.

Woodruff-Fontaine House Museum - Rising from ancient magnolia trees, the Woodruff-Fontaine House stands as a reminder of an era long gone. This beautiful French Victorian mansion was built in 1870 along "Millionaires Row." The mansion, home to two prominent Memphis families, was deeded to the city in 1936 and stood vacant for several years. The Association for the Preservation of Tennessee Antiquities rescued the house in 1962 and restored it to its former splendor.


Memphis Festivals:

Cooper Young Festival - Held in Memphis' largest historic district, the Cooper-Young Festival has grown tremendously since its inception and is one of Memphis' most highly attended Festivals. Over 130,000 guests will enjoy an appealing mix of art, music and crafts presented by over 435 artisans from around the country. The Cooper Young Festival is a true celebration of the arts, people, culture and Memphis heritage.

Exit 56 Blues Fest - Experience live music, arts and crafts, a cruise-in and a championship Deep-Fried BBQ Eating contest.

Gonerfest - Enjoy Memphis for three days of intense music from around the world, with 30+ bands and the best people from everywhere.

Hatchie BirdFest - Unique outdoor adventures and over 200 species of birds await you on the Hatchie National Wildlife Refuge. Events include special speakers and demonstrations, hikes, nature walks and exhibitors. Perfect for seasoned birders or beginners.

Juneteenth Urban Music Festival - The Juneteenth Urban Music Festival is held at Robert R. Church Park on Beale Street in Downtown Memphis. This free three-day festival provides fellowship, fanfare and a great time for thousands annually.

Memphis Food and Wine Festival - Join in as we showcase locål chefs who have shaped the Memphis culinary scene alongside acclaimed national and international chefs and top global vineyards – all benefiting FedExFamilyHouse.

Memphis Pride Festival - With over 15,000 attendees, Memphis Pride Fest is a great place to sell products, promote your organization, network with communities, build support for a cause, and celebrate with friends and families.

Mempho Music Festival - Mempho Music Festival blends today's top performers with Memphis' rich musical history, creating a festival experience filled with music, food, and nature for people of all ages. For the first time ever, overnight camping and "glamping" options will be available at Shelby Farms Park–which plays host to a diverse range of outdoor activities including biking, canoeing, zip lining, horseback riding, and more–on Friday, Saturday, and Sunday of the festival weekend. The festival will offer multiple live music stages, art installations, and an interactive dome that melds together the worlds of music, art, science, and design.

Tina Turner Heritage Days - Celebrating the heritage and legacy of Flagg Grove School along with its most famous student, Anna Mae Bullock, known worldwide as Tina Turner.