Nashville, Tennessee

Nashville, Tennessee, with a population of 570,223, is located in Davidson County, TN and is the capital of Tennessee.
The closest airport is Nashville International Airport (BNA).

Nashville was established in the 1806.
'One Nation Under a Groove' at new African American music museum in Nashville
Driving trips are an early escape from the confinement of coronavirus travel limitations, and the Louisiana parishes (counties) along the Mississippi River between New Orleans and Baton Rouge offer a culinary incentive in addition to the bliss of simply being out on the road. It's the 34-stop Andouille Trail.
Tennessee prepares big birthday for 84 of state's most scenic locations
NASHVILLE, Tennessee – Roger McCoy is about to celebrate a 50th birthday in a big way – not his own, but the 50th birthday of a program that now protects 84 of Tennessee's most notable locations. McCoy heads Tennessee's Division of Natural Areas.
Come for Picasso, stay for some museum hopping around Nashville
NASHVILLE, Tennessee – In the year of a coronavirus epidemic, it was easier to ship 76 works of art by Pablo Picasso from Paris to Nashville than for you to travel the other direction. That's what the Picasso Museum Paris, the largest public collection of Picasso's works in the world, did when it sent an eye-popping collection to Nashville's Frist Art Museum to mark the start of the Frist's 20th anniversary year.

Nashville Facts:

• Travel + Leisure magazine's World's Best Awards named Nashville's Hermitage Hotel one of the Top 100 hotels in the continental U.S. and Canada. This is the Hermitage's first appearance on this list.

• Nashville Zoo Named Among Nation's Best Zoos - America's Best Zoos: A Travel Guide for Fans and Families has named Nashville Zoo among the top 60 zoos in America. The guide cites Nashville Zoo as one of the premier places to see clouded leopards, alligators and meerkats. "Due to [Nashville Zoo's] youth, almost all of its exhibits are nearly brand new, built using the most modern exhibit technology to make almost every exhibit look like a gorgeous natural habitat," says "America's Best Zoos." "Because of this, the Nashville Zoo is considered by many in the zoo world to be one of the most beautiful zoos in the nation."

Nashville Hotels >>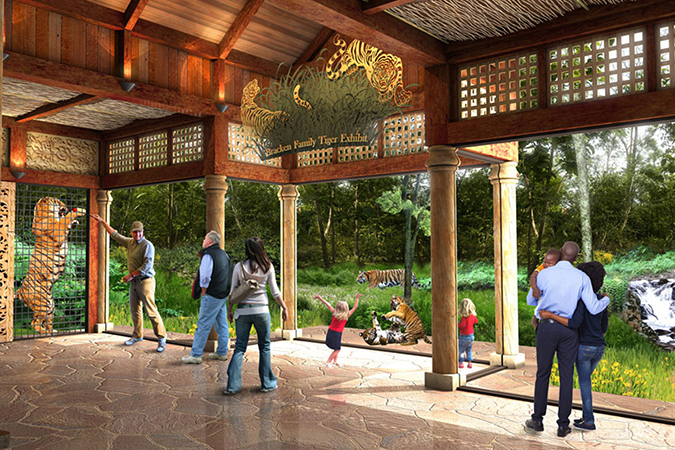 Tiger Crossroads at the Nashville Zoo; image courtesy of the zoo
Storyville Gardens theme park coming to Middle Tennessee
Autumn creates surge in farm tourism across America
The Peabody Hotel: Absolutely all it's quacked up to be
Remembrances of Patsy Cline in Nashville
See What Les Leverett's Grand Ole Opry Camera Saw for 32 Years
Enjoying Nashville's sculptures from a socially appropriate distance
10 years ago, much of Nashville was underwater
Nashville Hotels

The Hermitage Hotel

Doubletree by Hilton Nashville Downtown

Residence Inn by Marriott Nashville

The Hayes Street Hotel Nashville

Hyatt House Nashville at Vanderbilt


Nashville Marriott at Vanderbilt University
Cabins and Private Getaways

Wooded Retreat

Cabin by the Creek

Historic Spring Haven Cabin

Nashville Southern Safari

Chic Parisian Studio with rooftop

Peggy Street Retreat

Perfect Getaway for Exploring Nashville

Studio for 2 with pool

MusicCity Suite

Southern Exposure

East Nashville Cottage

View of St. Capital, Rooftop

The 1865 Studio

Nashville Guesthouse

Retreat on Music Row

Luxury Apartment Steps from Broadway

Downtown Studio

Modern Rustic Riverfront Condo

Cottage at West End

The Den

Shelby Ave. Condo

Germantown Studio

SunnySideUp

Historic Music Row Condo

Hip Apartment

Boho Oasis

The Nest - Classic Urban Flat


Nashville Bird House

Nashville Attractions:

• Belmont Mansion was constructed as one of the most elaborate antebellum homes in the South, with 36 rooms and 19,000 sq. ft. The estate contained an art gallery, conservatories, lavish gardens, aviary, lake and zoo.

• Belle Meade Plantation

• Carter House, built in 1830 by Fountain Branch Carter, witnessed one of the bloodiest battles during the Civil War on November 30, 1864.

• Cheekwood Botanical Gardens are seen and enjoyed by 170,000 visitors each year. The property was once the elegant home of the Cheek family. The 55 acre site includes the original Cheek gardens, designed by Bryant Fleming, with pools, fountains, statuary, extensive boxwood plantings and breathtaking views of the rolling Tennessee hills.

• Country Music Hall of Fame presents the crown jewels of its vast collection to illustrate country music's story as told through the turns of two centuries. A treasure trove of historic country video clips and recorded music, dynamic exhibits and state-of-the-art design, regular menu of live performances and public programs, museum store, live satellite radio broadcasts, on-site dining and fabulous public spaces all contribute to an unforgettable museum experience.

• Downtown Presbyterian Church church was one of many buildings used as hospitals during the Union occupation of the city during the Civil War. It was designated Hospital No. 8 and housed 206 beds.

• Delta Queen Steamboat Company - See the heartland of our great nation aboard the legendary Delta Queen®, and the magnificent Mississippi Queen®, the only genuine, overnight paddlewheelers plying America's rivers, for a journey brimming with fun, discovery and all-American heritage. The trip offers a unique blend of American beauty and history, its sumptuous river cuisine, lively "showboat" style entertainment, and the adventure of exploring Mark Twain's riverside America. Charming, historic river ports, lively cities, and stately plantations. Gliding along at a stately 8 mph, your mind has time to wander back to a time when life was a bit slower and more genteel, when these mighty rivers served as America's natural "highways," and an elegant paddlewheel steamboat was the epitome of travel. You'll explore the richness of riverside America as you step ashore at historic ports of call such as lively Memphis and stately Natchez, Mark Twain's Hannibal or cosmopolitan St. Paul, bustling St. Louis and gracious Louisville, charming Chattanooga and tuneful Nashville, friendly Cincinnati and dynamic Pittsburgh.

• Factory at Franklin is a vibrant shopping, dining and entertainment complex located in Franklin, Tennessee. The Factory is a member of the National Register of Historic Places. The Factory occupies the circa-1929 buildings that once served as the Dortch Stove Works, Magic Chef and later the Jamison Bedding Company.

• Historic Carnton Plantation - On November 30, 1864, the tragedy of the Battle of Franklin, so devastating to the Confederacy, unfolded in the fields near Carnton, home of John and Carrie McGavock. Over 20,000 soldiers in the Army of Tennessee attacked well-fortified Union breastworks at the southern edge of town. Soon the McGavocks would witness the carnage of war as they opened the doors of their home to be used as a field hospital for wounded Confederates

• Nashville Zoo at Grassmere is open every day except Thanksgiving Day, Christmas Day, and New Year's Day.

• Parthenon - The Parthenon stands proudly as the centerpiece of Centennial Park, Nashville's premier urban park. The re-creation of the 42-foot statue Athena is the focus of the Parthenon just as it was in ancient Greece. The building and the Athena statue are both full-scale replicas of the Athenian originals.

• Tennessee State Capitol, completed in 1859, is located on a high hill in downtown Nashville. It was one of the most magnificent public buildings of its time, anywhere in the U.S.

• Travellers Rest Plantation and Museum - Saved from demolition in 1954 by the Tennessee Society of the National Society of the Colonial Dames of America, the historic house, built originally in 1799, was restored to interpret the early 19th century life of Judge John Overton, one of the state's first Supreme Court Justices, the founder of Memphis, and a close personal friend of Andrew Jackson.


Nashville Festivals:

• Tennessee Honey Festival lands 2021 location at Bicentennial Capitol Mall State Park

• A Country Christmas at Gaylord Opryland® - Discover Christmas like never before with spectacular shows and horse-drawn carriage ride at the Gaylord Opryland® hotel.

• Annual Indian Education Pow Wow & Arts Exhibition - This three-day educational pow wow & fall festival offering you the opportunity to personally experience the culture and spirit of the American Indian people. The Indian Education Powwow and Fall Festival attracts people from all over the state of Tennessee and the United States. Each October, Indians of different Nations gather to share part of their culture. This spirited event is not just for the reunion of family and friends, but for anyone who would like to witness and join in the celebration of the culture that is nurtured by some 25,000 Indians who call Tennessee home today. Treat yourself to the delights of traditional native food.

• Downtown Pumpkinfest - Historic Downtown Franklin's annual Pumpkinfest the last Saturday in October fills Main Street from Second to Fifth Avenues with all things fall-related--pumpkins, costumes, two stages offering entertainment, hayrides and fall crafts. Streets are lined with fabulous food, hot cider and wonderful holiday and fall crafts and artisans. Merchants on Main "treat" trick or treaters at their businesses until 3 p.m. The People's Church provide a children's carnival on 3rd Avenue South with lots of fun free activities for kid's and the stage at City Hall. Entertainment is continuous on stages in front of the Old Courthouse on the Public Square and at Five Points. Hayrides and scarecrows and ghosts and goblins meander down Main at Pumpkinfest from 10 a.m. to 6 p.m.

• Hermitage Fall Festival - Fall Fest at the Hermitage is a spectacular weekend of art, music, and history at Andrew Jackson's Hermitage: Home Of The People's President. Proceeds from the festival benefit the Hermitage.

• Middle Tennessee Highland Games & Celtic Festival - Where families come together every year to learn, appreciate, preserve and celebrate Scottish and Celtic traditions for charitable, educational, social, and athletic purposes. Enjoy athletic events, children's activities, demonstrations, a beer tent, unique vendors, Celtic music, and much more.

• Pilgrimage Music & Cultural Festival - Pilgrimage Music & Cultural Festival was inspired by friendship, history, experience and the desire to create an authentic music festival.

• Spring Hill Country Ham Festival


Other Annual Events: Southern Women's Show, Tennessee Renaissance Festival, Iroquois Steeplechase