Alcoa - Tennessee

Alcoa, Tennessee is home of Alcoa Aluminum Company of America. Alcoa is the world's leading producer of primary aluminum, fabricated aluminum, and alumina, producing hundreds of different products for the construction, aerospace, military, consumer and other markets. Its Tennessee Operations has become one of the most modern aluminum fabricating facilities in the world.

McGhee-Tyson Airport (TYS), which primarily facilities the Knoxville market, is located in Alcoa.

Alcoa, Tennessee lies between Knoxville and Maryville and is 5 miles from Knoxville, 3 miles from Maryville, and 20 miles from the entrance to Great Smoky Mountains National Park. The city is located 13 miles from The University of Tennessee and Pellissippi State Technical Community College. The University of Tennessee Animal Science Field Laboratory is in Alcoa.

The city of Alcoa was founded in 1790.

Alcoa Hotels >>>
| | |
| --- | --- |
| Mainstay Suites Knoxville Airport | Holiday Inn Express & Suites |
| La Quinta Inn & Suites by Wyndham | Best Western Knoxville Airport |

Alcoa Attractions: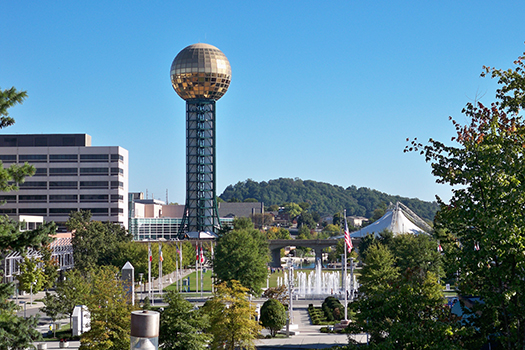 World's Fair Park
• East Tennessee History Center - The East Tennessee Historical Center is one of two facilities of the Knox County Public Library System located in downtown Knoxville. The Center houses the public library's Calvin M. McClung Historical Collection and the Knox County Archives, the repository for the permanent governmental records of Knox County.

• Great Smoky Mountains Heritage Center - The museum portrays Native Americans of East Tennessee history. Artifacts represent 5,000 years of Native American life related to hunting, pottery, foodways, ceremony, games, medicine, and trade. Depicted are pioneer and mountain culture's daily life, family and community, medicine, industry, recreation, and education. An exhibit, Tennessee on the Move, has a postal wagon, farming vehicles, a surrey, a freight wagon, and road construction equipment.

• Knoxville Museum of Art - Designed by noted museum architect Edward Larrabee Barnes, this 53,000 square foot concrete and Tennessee pink marble building features five galleries, the Great Hall, auditorium, Museum Shop, and various gardens and terraces. KMA received accreditation from the American Association of Museums in 1996.

• McClung Museum of Natural History and Culture - The McClung Museum is a general museum with collections in anthropology, archaeology, decorative arts, medicine, local history, and natural history. The exhibits document ways of life, cultural trends, and technologies from prehistoric times to the present day, and showcase much of Tennessee's past -- its geology, history, art, and culture.

• World's Fair Park - The park offers several acres of lawn, waterfalls, and streams. It is the site for festivals, meetings, performances, conferences, and a peaceful environment for relaxation. Water features include interactive fountains and a one-story-high geyser. A performance lawn, larger than two football fields, provides a natural amphitheater-like setting perfect for concerts, festivals, parties and other special events.

• Zoo Knoxville - Zoo Knoxville is open year round and offers special programs such as Bedtime with the Beasts. The zoo celebrate the wonders of the natural world. Through education, conservation, exhibition, research and recreation, the zoo tells the stories of the animals, the plants and the people who make up the communities of the earth.



Alcoa Festivals:

• Blue Ribbon Country Fair - Annual country fair with contests, demonstrations, crafts, and competitions in Poultry, Vegetables, Honey, Baked Goods, Needlecraft and more!

• Scottish Festival & Games - Originally founded in 1981 as the Gatlinburg Scottish Festival and Games, this is one of the oldest Scottish Festivals in America. In 2010, a new home was established in the City of Maryville on the grounds of historic Maryville College, home of "The Scots". You don't have to be Scottish in order to enjoy this unique Festival! Its location in the foothills of the Great Smoky Mountains is the perfect backdrop for you and your family to get a wee glimpse of Scotland - and to discover and appreciate the rich traditions and history of the Scottish and Scots-Irish settlers of our area.

• Smoky Mountain Fiber Arts Festival - Presented by the Townsend Artisan Guild. Vendors, classes, demonstrations and more for fiber arts enthusiasts.

• Tennessee Pottery Festival - The Annual Tennessee Pottery Festival is on the grounds of the Great Smoky Mountains Heritage Center. The event features more than 20 of the nation's finest potters, this festival offers the opportunity to view and purchase different styles of pottery and other goods made of clay.

• Tennessee Winter Beer Festival - The festival promotes the regional craft beer culture within East Tennessee through intimate events and gatherings while supporting local charities.

• The Pistol Ultra Run - With distances from the family friendly 1 mile fun run/walk to the ultra crazy 100 miler, there's something for everyone. The 50K relay (2 or 3 person), 50K, 100K, and hundo have a generous 30 hour time limit, the 50 miler has 18 hours, the 1 and 10 miler have 6 hours. There's even the super crazy double barrel race for those who want to do both the 50K/50 miler, or the absolutely insane 100K/50 miler distances back-to-back! Runners score some great swag, enjoy the optional tasty pre-race pasta dinner, get pampered by some really nice volunteers, lots of heated aid station support, warming stations, camaraderie with plenty of other crazy ultra runners, and some really cool finishers awards. This is a great race for first time and seasoned ultra runners alike. Walkers are welcome too.

• Townsend Spring Festival and Old Timers Day - Blue grass music (concerts & jam sessions), clogging , arts and crafts, BBQ and other vendors, Appalachian skills demonstrations, storytelling and wildflower walks. Parking on premises cost benefits Townsend Volunteer Fire Department. FREE shuttle service is available to take people between stops throughout Townsend.

• Winter Heritage Festival - Presentations and programs at the Great Smoky Mountain Heritage Center about the families and history of the national park, celebrating the region's cultural and natural history.