Dayton, Tennessee

Dayton, Tennessee, with a population of 29,286, is located in Rhea County, TN and 34.9 miles from Chattanooga, Tennessee. Dayton is the county seat.

Dayton, Tennessee was established in 1820.

The closest airport is McMinn County Airport (MMI).


Dayton Hotels >>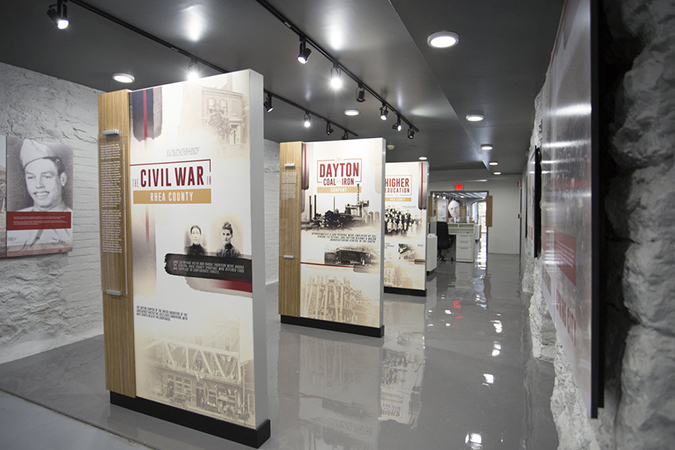 Scopes Trial Museum and Rhea County Courthouse


Dayton Attractions:

Blue Ridge Scenic Railway - The train route consists of a 26-mile round trip through historic Murphy Junction along the beautiful Toccoa River. This railroad was built over 100 years ago and is the only mainline railroad excursion service based in Georgia. Each trip begins at the depot in Blue Ridge, Georgia and includes a stop in McCaysville which permits passengers to disembark and stretch their legs while exploring the downtown communities of McCaysville, Georgia and Copperhill, Tennessee. Each round trip takes approximately 3 1/2 hours.

Chattanooga Choo Choo is one of the South's most renowned and unique landmarks. This 24-acre vacation and convention complex is located in the heart of Chattanooga and has something for everyone. The Choo Choo combines history and fun in a delightful blend that appeals to visitors of all ages.

IMAX Theatre - Located in the Tennessee Aquarium IMAX Center, the massive six-story-high screen is 66' x 89' and seats 400 people. The IMAX building also houses the Environmental Learning Lab; Great Hall with "whale bone" design and back-lit graphic panels; and a gift shop. The IMAX 3D experience is powerful, involving and intense. Because of its technologically advanced 3D cameras, rolling-loop projector, special polarized glasses, and large film format - at 10 times the size of conventional 35mm movie film, it's the largest in the world- viewers don't watch an IMAX 3D movie; they live it.

Laurel-Snow Pocket Wilderness is a 710-acre wilderness area named for two of the waterfalls along the trail. The hike involves two ascents of about 900 ft. The area features scenic creeks, overlooks, steep gorges, geologic features, a small stand of virgin timber, and a wide variety of plants and animals. The Pocket Wilderness is accessed via Hwy 27/29. From the north turn right, from the south, turn left onto Walnut Grove Road, a street sign is not posted; however, there is an Eckerd Drug store on the corner. Continue .75 miles past the La-Z-Boy factory to Back Valley Road then turn left. Continue .70 mile to Richland Creek Road and turn right on to an unmarked gravel road/drive. There is a white church across the street. Continue about 1 mile to the parking area at the end of Richland Creek Road.

Riverfront Chattanooga - When Chattanoogans envisioned a renaissance for their city 20 years ago, they returned to the river. Now the banks of the Tennessee River flourish with an aquarium, a children's museum, a carousel, theaters, walking paths, a pedestrian bridge and a score of other projects to create Riverfront Chattanooga.

Rock City - located atop Lookout Mountain, just 6 miles from downtown Chattanooga, Rock City is a true marvel of nature featuring massive ancient rock formations, gardens with over 400 native plant species, and breathtaking "See 7 States" panoramic views. Take an unforgettable journey along the Enchanted Trail where each step reveals natural beauty and wonders along the woodland path. Experience fairytale magic at Fairyland Caverns and Mother Goose Village. Gift shops and restaurant on site.

Ruby Falls is America's largest underground waterfall, accessible to the public. The stroll along an awe-inspiring trail contains countless natural wonders and is climaxed by the natural phenomenon known as Ruby Falls. Fantastic views and world class facilities await all who visit.

Scopes Trial Museum and Rhea County Courthouse - This is the site of the 1925 Scopes Evolution Trial (also known as The Monkey Trial). Features photos from the trial and courtroom tours. The trial began in on July 11, 1925. Over 100 journalists arrived Dayton to report on the trial. The Chicago Tribune installed its own radio transmitter which made the Scopes Trial the first trial in American history to be broadcast to the nation.

Tennessee Aquarium - Like a favorite fishing spot, people return to the Tennessee Aquarium to see amazing animals that swim, fly and crawl in natural habitats. This remarkable journey from the mountains to the sea takes visitors through three living forests under glass and puts them eye to eye with 10-foot sharks, giant spider crabs, river otters and alligators. The Aquarium's newest addition, Ocean Journey, takes guests into the open ocean where fierce sharks, stealthy stingrays and colorful reef fish glide through amazing coral formations. Visitors also experience a shark and ray touch pool and hundreds of free-flying butterflies. The weird and wonderful animals in Ocean Journey's "Boneless Beauties" gallery include graceful jellyfish, a giant octopus and captivating cuttlefish. The original River Journey building takes guests on a freshwater adventure, with exhibits that showcase the Appalachian Cove Forest, a steamy Delta swamp and rivers of the world.

Tennessee Valley Railroad Museum - Experience the classic Missionary Ridge Local, take an all-day excursion to Summerville, Georgia, or see the beautiful Hiwassee River Gorge. Tennessee Valley Railroad Museum is the largest operating historic railroad in the Southeast.

Hamilton Place Mall - Over 16 million shoppers a year have enjoyed the Hamilton Place area which includes Hamilton Place, Hamilton Corner, Hamilton Crossing, The Terrace and The Shoppes. Hamilton Place offers fashion, fun and food for everyone with six department stores, over 200 stores, 30 eateries and 17 theaters. The mall is located in nearby Chattanooga.


| | |
| --- | --- |
| Best Western Dayton | Holiday Inn Express Dayton |
| Guest Suite | Haven House on Lake Chickamauga |
| Jasonís Cozy Country Cabin | Cottage In The Woods |

Dayton Festivals:

• CultureFest - Located on the beautiful Tennessee River at Coolidge Park in Chattanooga, TN, the Arts & Education Council hosts CultureFest in September. Celebrate the rich diversity of the city and region with music, dance, storytelling, children's activities, interactive booths and demonstrations, food and drink.

• Riverbend Festival is a fabulous nine-day event in Chattanooga, Tennessee, held every June. It is located downtown along the banks of the Tennessee River. Riverbend is best described as a huge family-oriented music festival, with six stages of almost every possible genre of music. Plus roving artists, fantastic fireworks, Starfighter Jet Flyovers, a 5K & 10K Run, and a fun-filled Children's Village.

• Scopes Trial and Festival - Annually in July Dayton hosts the Scopes Trial and Festival, which includes a re-enactment of the courtroom battle.

• Spirit of the Veteran and Warrior Intertribal Native Festival - Experience the sights and sounds of Native American dancing and singing, specialty dances, Native American craft and food vendors, Native flute players and storytellers.

• Tennessee Strawberry Festival - This is a 10 day long extravaganza, jam-packed with a myriad variety of events and activities sponsored by the Dayton Chamber of Commerce.