Loudon, Tennessee

Loudon, Tennessee has a population of 4,476. It is located in Loudon County, TN and only 34.7 miles from Knoxville. It sits just a few miles from Fort Loudoun Dam.
Loudon, Tennessee was established in the 1790s.

The daily newspaper in Loudon is the News-Herald.

The closest airport is McGhee Tyson Airport (TYS).

Loudon Hotels >>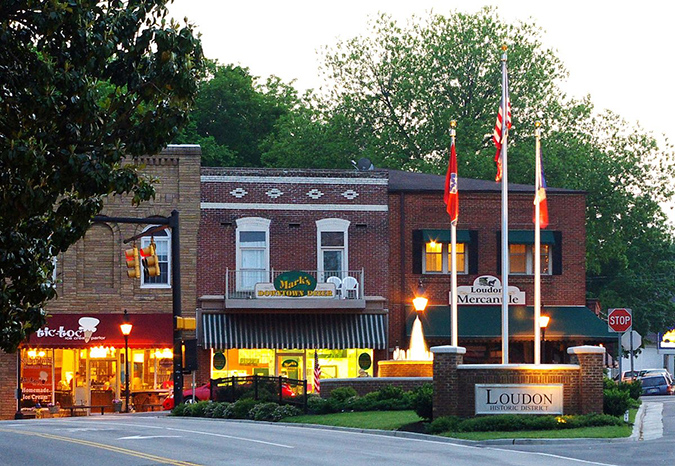 Historic Loudon, Tennessee; image courtesy of Loudon TN
Loudon Attractions:
Antiquing is a popular tourist activity here. Loudon County is full of wonderful treasures and some of the best can be found on the Highway 11 Antique Trail, beginning in historic Lenoir City and continuing on to Loudon and Sweetwater. You'll find everything from vintage antiques, memorabilia and collectibles, as well as a variety of more modern furniture and gifts in the many antique stores.

Fort Loudon State Historic Park - Fort Loudoun State Historic Park is 1,200-acres and is one of the earliest British fortifications on the western frontier, built in 1756. The fort was reconstructed during the Great Depression and was designated a National Historic Landmark in 1965.
Historic Loudon - Historic Loudon is a charming little town along the Tennessee River with an easy-to-walk downtown filled with quaint shops, good food and friendly faces. Whether you're stopping for ice cream, looking for a special gift, or discovering the area's deep heritage, Loudon will make you feel welcome and relaxed.

Dead Man's Farm lets you experience the haunted attraction that thousands have been screaming about.

Deep Well Farm produces mostly pumpkins and hay. This farm gives you the chance to get lost in a corn maze, take an old-fashioned hay ride and pick the perfect pumpkin from the pumpkin patch. There are also tire swings, slides, a rope climbing wall, duck pond, farm animals, picnic area and much more for everyone to enjoy.

East Lakeshore Trail system at Tellico Lake is considered to be one of the most beautiful and accessible hiking trails in East Tennessee. The trail, which provides a recreational and educational experience, has been recognized by the Department of the Interior as a National Recreation Trail. The trail is open at all times and consists of ten different trails – Canal Branch, Baker Hollow Trail, Davis Ferry Branch, Glendale Branch, Glendale Shortcut Trail, Coytee Loop Branch, Sinking Creek Branch, Lotterdale Branch, Jackson Bend Branch and Morganton Branch.

Fort Loudon Marina is located on beautiful Fort Loudon Lake. It is located upriver next to Fort Loudon Lock at the end of Watts Bar. The marina is also at the beginning of Fort Loudon Lake, as well as Tellico Lake. With the choice of three different lakes to enjoy from this location, it makes for a great day on the water. Lenoir City Park sits within sight of the Marina. The park offers public ramps as well as a picnic area. One of Tennessee's best steak & rib restaurants, Calhoun's, is located on site.

Sequoyah Museum - Visitors to the Sequoyah Birthplace Museum will experience the life of the man Sequoyah – father, soldier, silversmith, statesman and creator of the Cherokee writing system. At the center of the story the deeply personal quest of Sequoyah's single-minded concentration on solving the mystery of the "talking leaves." He spent those years in near isolation, facing down social derision and tribal suspicion, enduring family rebellion, and believing – almost alone – that he could create a written language for the Cherokee.


Loudon Festivals:

Lenoir City Arts & Crafts Festival brings thousands of buyers who view the wares of some 240 crafters. Items range from ceramics and glassware to metal work and jewelry, to baskets and much more! The quality of the event and superb reputation of the crafters have made this one of the area's most popular events.

Lenoir City Christmas Parade kicks off the holiday season with the Lenoir City Christmas Parade! Each year, thousands of families come together on a magical December night to watch the excitement of a parade and catch the first glimpses of Santa as the holiday season begins. Historic downtown Lenoir City provides beautiful lights and sounds that will please parade fans everywhere.

Music on the Mountains at the Tennessee Valley Winery is a festival held during the summer.

OktoberFest at the Tennessee Valley Winery is its biggest event of the year.

Rockin' the Docks Music Festival is an all day festival that takes place each year on Fort Loudon Lake. Each summer, thousands of people gather at Lenoir City park to enjoy live bands, food, fireworks, rock climbing wall and much more.