Townsend, Tennessee
Townsend, Tennessee, with a population of 2,415, is located in Blount County, TN and 26.8 miles from Knoxville, TN.

This peaceful town, established in 1921, lies at an entrance to Great Smoky Mountains National Park.

The closest airport is McGhee Tyson Airport (TYS).

Townsend history

Townsend Hotels >>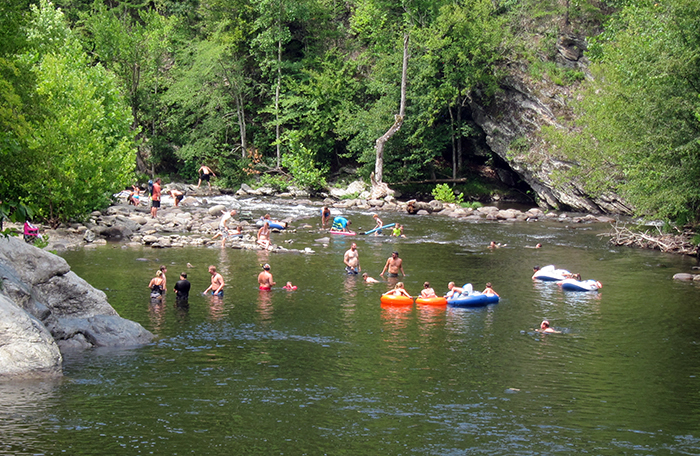 Tubing in the mountain river in Townsend

Townsend Attractions:

Appalachian Trail - A portion of the 2,160 mile Appalachian trail from Georgia to Maine runs through Great Smoky Mountains National Park.

Bicycle Trails - Townsend offers a bicycle trail through beautiful mountain scenery. Cades Cove Bike Shop in Cades Cove provides bike rentals for use through the 11 mile cove loop. Tale of the Dragon, 318 curves in 11 miles, is not too far from Townsend.

Cades Cove - Located just a few miles from Townsend in Great Smoky Mountains National Park, Cades Cove is an eleven mile loop road which follows many of the grades and turns of the old wagon roads of the 1800s. Settlers first entered the Cove legally after an Indian treaty transferred the land to the State of Tennessee in 1819. Year after year they funneled through the gaps, driven by whatever haunted them behind or drew them in front, until they spilled over the floor and up the slopes. Most of them traced their way down the migration route from Virginia into east Tennessee (now more or less Interstate 81). Tuckaleechee (modern Townsend) was the last point of supply before the leap into Cades Cove. A few years later pioneers moved directly over the mountains from North Carolina. They all came equipped with personal belongings, and the tools and skills of an Old World culture, enriched with what they learned from the Indians.

Fishing - Great Smoky Mountains National Park waters are open for trout fishing. You will also find rainbow, brown and brook trout. Abrams Falls, only 20 minutes from Townsend, is an excellent fishery. Outfitters are located in Townsend for your fishing supplies. Fishing guides are also available for inexperienced fishermen.

Great Smoky Mountains Heritage Center - The Center highlights the history of Native Americans and mountain life from periods 3000 B.C. (Native American) to 1930 (settlers). The center is 17,000 sq feet on a 3-acre site and includes an additional 10 historic structures on site. The museum features displays of native artifacts showcasing the history of the Native Americans and many examples of pioneer artifacts such as tools and materials used in daily lives. The museum is located in Townsend and just a short distance from Great Smoky Mountains National Park.

Great Smoky Mountains Institute at Tremont - Great Smoky Mountains Institute at Tremont delivers experiential learning for youth, educators, and adults through programs that promote self-discovery, critical thinking, and effective teaching and leadership.

Great Smoky Mountains National Park - Townsend provides one of three main entrances into the park.

Hayrides - Hayrides are offered in Cades Cove from April through October.

Horsedrawn carriage rides - EchoBrooke Farm offers carriage ride picnics, hay rides, foxhunting parties.

Rocky Branch Bluegrass - You haven't completed your visit to the Smoky Mountains until you have been to Rocky Branch Community Center for a night of bluegrass jamming. The former old schoolhouse has been turned into a music center where world-class bluegrass musicians gather every Friday night to play their favorite oldies in a very casual environment. Admission is free, but donations are welcomed

Little River Railroad and Lumber Company - a non-profit corporation founded in 1982 to preserve the heritage of the the Little River Lumber Company and the Little River Railroad. This museum collects, preserves and exhibits the history of these companies and of the people in this region. Townsend was the site of the sawmill, and headquarters of this operation, which logged huge portions of what is now Great Smoky Mountains National Park, from 1901 until 1939. The Little River became famous far beyond its remote mountain origins. This was due in large part to its innovations in railroad motive power, which included invention of the first 2-4-4-2 articulated Mallet, and the smallest 4-6-2 Pacific ever built for North American standard gauge.

River Tubing - Tube down a cool mountain river on a hot summer day.

Tuckaleechee Caverns - As young boys, W.E. "Bill" Vananda and Harry Myers of Townsend played near the entrance to Tuckaleechee Caverns and frequently ventured into them. While students at Maryville College in 1949, they got to talking about the feasibility of opening the cave to the public. When Associated Press Pulitzer Prize Winning columnist Hal Boyle interviewed them about 1960, Myers recalled "We played Tom Sawyer in the main passage as kids. We explored it for three-quarters of a mile, sometimes wriggling on our bellies, and lighting our way with homemade lamps – pop bottles filled with kerosene." And over a cop of coffee they decided they would try to turn the cavers into a tourist attraction. Nobody would lend them money. Both were married and had two children. They went to Alaska and labored on construction jobs to raise funds. After fours years of lonely toil – the two men had carried in hundreds of tons of sand, cement and gravel on their backs to build steps and passageways – they opened the cave in 1953.

Walker Sisters Home - Constructed in the 1840's the Walker Sisters Home was home to some of the last living residents of Great Smoky Mountains National Park. The home is a 1.5-mile hike from Little Greenbrier School in the Metcalf Bottoms area. The five sisters lived there amidst the old Appalachian traditions until the last sister, Louisa Susan, died in 1964. Visitors can explore the old home, the springhouse and corn crib, and bits of stone walls that were part of this homesite.



Townsend Festivals & Special Events:

Grains & Grits Festival - The Townsend Grains and Grits Festival is a festival of southern spirits and gourmet grub. Experience thriving crafts spirit and gourmet food community while discovering some of the region's legendary distillers and blenders

Great Smoky Mountain Marathon - The course for the Great Smoky Mountains Half is a beautiful run through the woods just outside Great Smoky Mountains National Park. The course begins near Heritage High School in the Hubbard Community outside Maryville and ends in Townsend, just under a mile from the National Park boundary. The finish line is at the visitors center in Townsend with beautiful views of the mountains.

Townsend Fall Heritage Festival and Old Timers Day - A celebration of mountain and Appalachian arts and crafts. Features demonstrations, bluegrass and mountain music, an antique tractor and engine show, storytelling, children's activities, crafts by local artisans, basketry, spinning, weaving, sorghum molasses, apple butter making, lye soap, beekeeping, and blacksmithing.

Townsend Heritage Festival and Old Timers Day - The festival, held the last weekend in September, celebrates mountain culture, including bluegrass music, Appalachian arts and crafts demonstrations, storytelling and the natural beauty of the Great Smoky Mountains. Throughout the day on Friday there are arts and crafts demonstrations, bluegrass music, book signings, cakewalks, bake sale, arts and crafts booths, pony rides, Appalachian skill demonstrations, including flaxing and spinning, mountain berry basket making and poetry, chair caning, beehive observation, lye soap making, corn shuck doll making, apple butter making, blacksmith, rug hooking, cornmeal making, moonshine still (no sampling) and "rivin" shakes, and sorghum molasses making. A themed basket auction is held on Friday afternoon. On Saturday, the same activites are scheduled along with mountain storytelling on the front lawn and an antique tractor and engine show.

Townsend in the Smokies Spring Festival - Held the last weekend in May and continuing through the first week in June, Townsend in the Smokies Spring Festival features Appalachian demonstration of lye soap making, bee hive observation, heirloom spinning, homespun toys, cornmeal making, mountain berry basket making, and poetry. All day pony rides are offered. Arts and crafts demonstrations include quilting, woodcarving, and wildflowers.