Vonore, Tennessee


Vonore, Tennessee, with a population of 1,799, is located in Monroe County and Blount County, TN and 36,2 miles from Knoxville, TN.

This is one of East Tennessee's most beautiful and peaceful towns.

The closest airport is McGhee Tyson Airport (TYS).

Vonore Hotels >>



Vonore Attractions:

Black Bear Trading Post - Featuring chainsaw art carved on site: bears, totem poles, benches, signs and custom designs from salvaged local wood. Also handmade candles are sold.

Boating - There are a number of boat ramps and marinas servicing the Tellico Lake area. A simple docking facility can be found 150 yards west of the visitor center.

Cherohala Skyway - The Cherohala National Scenic Byway (also know as the Cherohala Skyway) is about 50 miles long with views of ancient forests where Cherokee tribes and early pioneers traveled and settled in the Appalachian Mountains along with mile-high vistas with magnificent views.

Cherohala Skyway Visitor Center - This is a "must stop" before starting up the Cherohala Skyway. Stop by for free maps of the Skyway and the Cherokee National Forest, Skyway driving conditions and local area souvenirs and gifts. Picnic tables and spotless restrooms are available.

Cherokee Heritage Trail - Winding through mountains, past scenic rivers, and through small towns, you will discover the rich history of the Cherokee people. Follow National Scenic Byways, quiet highways, and backroads to visit sites that offer a glimpse into the past and a view of the present. Museums, historic sites, and memorials tie the past to the present and a people to their land.

Citico Wildlife Wilderness - In a mountain cove surrounded by the wilderness of Cherokee National Forest are ranging 30 species of native and non-native animals including 5 species of deer, three of African antelope, three of exotic cattle, Yaks, Bison, Capybara, African Porcupines, wallaroo, Aoudad, & wild sheep, Rheas, Emus & Zebra. Small groups of guests are toured in a safari vehicle. Reservations only.

Crafts Heritage Trail - Art and artists have long been influenced by the landscapes that surround them. They often draw materials, as well as inspiration, from the land itself. We invite you to find both art and inspiration as you travel scenic byways and rural highways through changing landscapes.

Fishing - There are many opportunities for anglers by bank or by boat. Visitors will find a handicap accessible fishing pier large enough to hold many anglers.

Fort Loudon State Historic Area - During the French and Indian War (1754-1763) the British Colony of South Carolina felt threatened by French activities in the Mississippi Valley. To counter this threat, the Colony sent the Independent Company of South Carolina to construct and garrison what became Fort Loudoun. This move helped to ally the Overhill Cherokee Nation in the fight against the French and guaranteed the trade would continue between the Cherokee and South Carolina. In the course of the fort's four-year existence, relations between South Carolina and the Cherokee Nation broke down. In August, 1760, the Cherokee captured Fort Loudoun and its garrison.

Fort Loudon State Historic Park - Fort Loudoun State Historic Park is 1,200-acres and is one of the earliest British fortifications on the western frontier, built in 1756. The fort was reconstructed during the Great Depression and was designated a National Historic Landmark in 1965.

Golfing - Kahite golf course has scenic views of Tellico Lake and the foothills of the Great Smoky Mountains. It features the Village's newest driving range facility and practice putting green. Kahite's Clubhouse, with its activity center, pool and tennis courts, have proven popular with the owners in Kahite, the Village's newest neighborhood. There are 93 sand bunkers on the 7,100 yard links style course. The ninth hole is an 808 yard par 6.

Great Smoky Mountains National Park - This national park is close to Vonore and offers a vast amount of family fun and vacation opportunities.

Hiking - There are four hiking trails that range from easy to moderately strenuous. The trails offer beautiful views of the mountains and valley.

Outpost Pavilion - Sit back and relax to the sound of local bands ranging from rock to bluegrass. Come enjoy the best food in the most laid-back atmosphere in the area – tell us about your day on the river, the roads, the trails or lakes. Good food, fun & music.

Paddling - Kayaks and standup paddle boards (SUPs) are available every day with the exception of garrison weekends and special events. Paddles and life jackets are provided. To rent, stop by the visitor center. You can also bring your own. A kayak launch is attached to the boat dock.

Sequoyah Birthplace Museum - The Sequoyah Birthplace Museum is a property of the Eastern Band of Cherokee Indians. The museum promotes the understanding and appreciation of the history and culture of the Cherokee Indians in Eastern Tennessee, particularly the life and contributions of Sequoyah. The museum collects, preserves, interprets, and exhibits objects and data that support this.

Scott Street Gallery - Features local artists and the working studio of Shelia Holbo. You will often find her at work drawing, painting, carving in wood or working on her Cherokee flat weaving. Shelia's artwork on display features mountain scenes, animals and florals.

Tellico Arts Center - Features more than 70 talented local artists and craftspeople; fine art, fabric art, pottery, books, and musical recordings.

Tellico Blockhouse - The Tellico Blockhouse was a United States fortification used officially from 1794 through 1807. The site functioned in some smaller capacity through December 1811. The Tellico Blockhouse served as a check against white encroachment as those of European decent were required to have written passes from the commander of the Blockhouse before entering deeper into Cherokee land.

Tellico River, Blueway & Lake - Tucked into the Cherokee National Forest, this scenic river is known for its swift waters and trout fishing. Photographers love it. Depending on the natural flow of waters, kayaking and canoeing are allowed.

Tellico Visitor Center/Museum - This is a great place to stop before visiting the reconstructed fort. It offers information on the area's history and artifacts that were excavated prior to the Fort's reconstruction. There is also a bookstore and gift shop.

Trail of Tears National Historic Trail - The Trail of Tears National Historic Trail commemorates the forced removal of Indians from Georgia, Alabama, North Carolina, and Tennessee in 1838. While all Indians in the area were relocated to Oklahoma, the Trail of Tears is mainly the story of the Cherokee Indian, for many other tribes left voluntarily during the two years prior. It was mainly the Cherokee who vowed not to leave without a fight.

Unicoi Turnpike Trail - The old trade and war path now known as the Unicoi Turnpike Trail predates written history. Covering approximately 67 miles from Vonore, TN to Murphy, NC, the Unicoi Turnpike Trail allows modern travelers to follow the footsteps of Indians, fur traders, explorers, British soldiers, and others who used this path for centuries.

Vonore Heritage Museum - Artifacts used by the people of Vonore from the late 1800s through the 1950s are on display. The museum is filled with memorabilia from the past that defines what life in Vonore was like way back when.

White Stables Equestrian - White Stables at Rarity Bay, LLC is located in Vonore, TN at the entrance to a gated lakefront luxury community which occupies an almost 1000 acre peninsula on Lake Tellico in East Tennessee.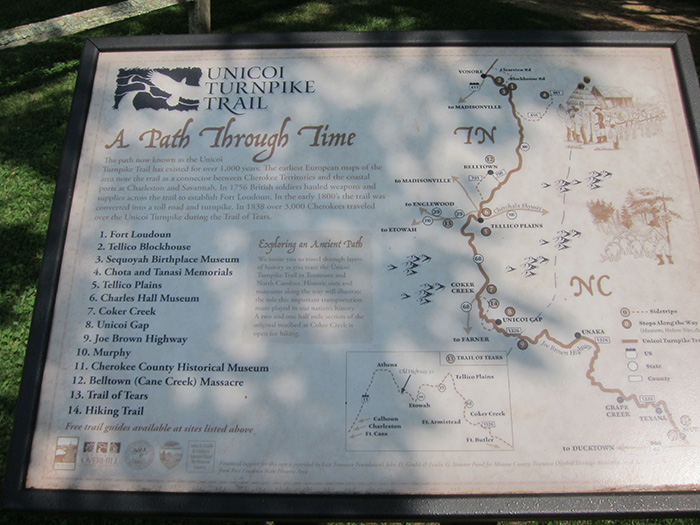 Vonore Festivals & Special Events:

Cherohala Skyway Festival - Features live music, food, vendors, local artisans, crafters, Appalachian demonstrations, and a huge Tellico Plains library book sale. Activities include face painting, safe archery for all ages, and wagon rides. Lunch combos and many desserts including funnel cakes will be available from 11-3.

Cherokee Fall Festival - The Sequoyah Birthplace Museum, Tennessee's only tribally owned museum, will host its annual Cherokee Fall Festival. Visitors will have the opportunity to step back in time to experience food, Cherokee arts and crafts demonstrations, music and dance. A blacksmith will be doing on-site demonstrations in the shop both days. Other demonstrations and displays will include Cherokee life in 1700's and a Civil War encampment.

Fort Loudoun 18th Century Trade Faire - see a couple hundred costumed re-enactors participating in various 18th Century related activities. Merchants and artisans will be on site to demonstrate and peddle 18th Century style wares. Soldiers, settlers and Cherokee Indians will be encamped. There will be artillery and musket drills and there will be skirmishes and battles.

Sequoyah Remembrance Day - Sequoyah Birthplace Museum will celebrate Sequoyah Remembrance Day and Sequoyah's contribution to the Cherokee people by creating a writing system, the Cherokee Syllabary. Free admission to the museum from 12 p.m. to 5 p.m. The 1809 Cherokee Blacksmith shop will have demonstrations all through the afternoon.

Statehood Day - On June 1, 1796, Congress approved the admission of Tennessee as the sixteenth state of the Union. An 1809 Blacksmith shop will be open with demonstrations going on throughout the afternoon. Share the afternoon with living history in a 1800's dog-trot log cabin. Learn about Cherokees in the Civil War, corn husk doll making and other activities.