Cookeville, Tennessee
Cookeville, Tennessee, with a population of 26,000, is located in Putnam County, TN and 72.4 miles from Nashville, TN.

The closest airport to Cookeville is Jackson County Airport (1A7).

Cookeville, Tennessee was established in 1854 and is the county seat of Putnam County.

Cookeville is one of America's Top 10 retirement places.

Cookeville is located within minutes of three of the most beautiful lakes in Tennessee - Dale Hollow, Center Hill, and Cordell Hull.

Over and over and over and over and over the river


Cookeville Hotels >>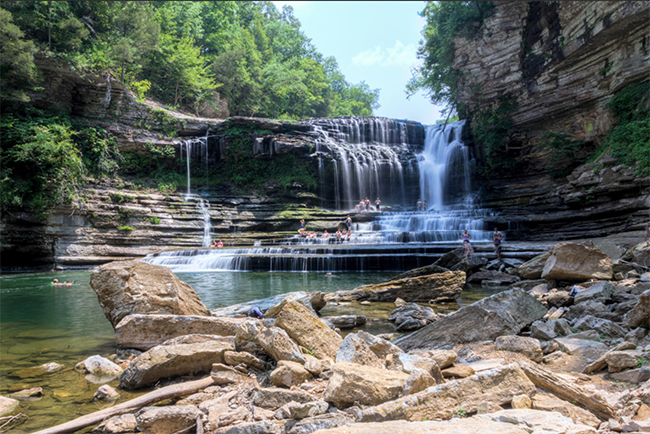 Edgar Evins State Park; image by Michael Hicks


Cookeville Attractions:
Edgar Evins State Park - Edgar Evins State Park encompasses approximately 6,000 acres on the shores of Center Hill Reservoir in the rolling hills of Middle Tennessee. It provides excellent recreational opportunities and accommodations on one of the most beautiful reservoirs in Tennessee. The park was named in memory of James Edgar Evins, an outstanding leader and former state senator who was instrumental in the development of Center Hill Dam and Reservoir. Mr. Edgar Evins was the father of former U.S. Representative, Joe L. Evins.

Cookeville Festivals:

• Annual Dale Hollow Eagle Watch Tours - Held on the third and fourth Saturday of January, eagle enthusiasts are transported by open barge in search of wintering bald eagles. The eagle watch tours are free, but advance reservations are required.
• Cookeville Christmas Parade - One of Tennesse's largest parades! 7:00 pm. Parade begins at corner of 6th and Washington, goes to Courthouse Square, right on Broad St, ends at Depot.

• Dale Hollow Lake Fishing Tournaments - Several fishing tournaments are held at Dale Hollow Lake in the spring and fall.

• Putnam County Fair - Features Old Time Mule Day and Gospel Singing, petting zoo and pony rides and more.

• Streetfest - Streetfest presents a wide variety of activities and fun for everyone. Activities range from beauty pageants and look-a-like contests, lip synching, Amatuer Singing, and little kids tractor pulls, along with lots lots more. Plenty of food and free entertainment the entire weekend


Cookeville Hotels >>