Dyersburg, Tennessee

Dyersburg, Tennessee, with a population of 28,213, is located in Dyer County, TN and 43.1 miles from Memphis, TN.

The closest airport is Dyersburg Municipal Airport (DYR).

Dyersburg, Tennessee was established in 1823.

Dyersburg Hotels >>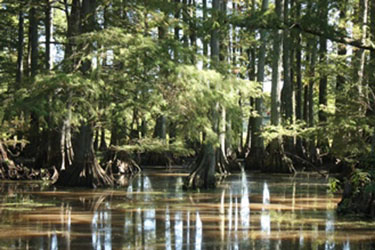 Hatchie Wildlife Refuge


Dyersburg Attractions:

Deep Swamp Canoe Trip - A wetland trip through unique areas of Reelfoot Lake's Cypress Swamp. Reservations required. Other trips may be scheduled for groups. Every weekend, March and April, 8:00 AM and 1:00 PM. Moderate charge.

Eagle Tours - American Bald Eagle and Waterfowl Tours begin January 2nd and continue through mid-March. Buses leave daily at 10:00 AM from Reelfoot Lake State Park Airpark Inn. Tours last approximately 2 hours. There is a moderate charge for this tour and reservations should be made in advance.

Hatchie National Wildlife Refuge - This 11,556 acre wildlife refuge lies within the floodplain of the Hatchie River. The Hatchie is the last unchannelized river of its type in the Lower Mississippi River Valley and still functions under near normal wetland cycles. About 9,400 acres of bottomland hardwoods are located on the refuge and are flooded by headwater flows of the Hatchie. The headwaters of the Hatchie in Mississippi are channelized as are 33 major tributaries.

The refuge's concentration is ducks (primarily mallards), shorebirds and wading birds; open water 270 acres, wetland 10,000 acres, woodlands 9,800 acres, cropland 1,000 acres, and grasslands 31 acres.

Wildlife observation includes hunting, fishing, and photography. There is boating access to the Hatchie River and an auto tour route.

Moonlight Boat Cruise - Take a cruise under a full moon on Reelfoot Lake to observe its natural beauty after dark. Reservations required.

Pontoon Boat Cruises - Guided Scenic Boat Cruises to observe birds and natural beauty of Reelfoot Lake. Each tour departs from the Visitor Center at 9:00 AM and lasts approximately 3 hours. Trips at 1:30 PM and 2:45 PM on weekends. Weekend afternoon trips last about 1 1/2 hours. For reservations and information call 731-253-9652.

West Tennessee Cotton Museum - The West Tennessee Cotton Museum features the story of the huge cotton farms in the area, some of which began in the early 1800s. The museum offers exhibits, photographs, and primitive-to-modern farming implements, from old plows to 9-footlong sacks used to collect handpicked cotton.



Dyersburg Festivals:

International Washer Pitchin' Contest - Held on the 3rd Saturday in August in Yorkville. Includes a fish fry and prayer breakfast.

Reelfoot Arts and Crafts Festival - First weekend of October. Over 300 Exhibitors from several states and thousands of shoppers descend upon Reelfoot Lake for this three day annual event.

Reelfoot Lake Bass Tournament - held in October. Strike King Pros are in attendance for the weigh-in which is held at Blue Bank Resort.