Fayetteville, Tennessee

Fayetteville, Tennessee, with a population of 7,003, is located in Lincoln County, TN and 24.4 miles from Lewisburg.

The closest airport is Fayetteville Municipal Airport (FYM) in Fayetteville.

Fayetteville, Tennessee was established around 1806.

Fayetteville Hotels >>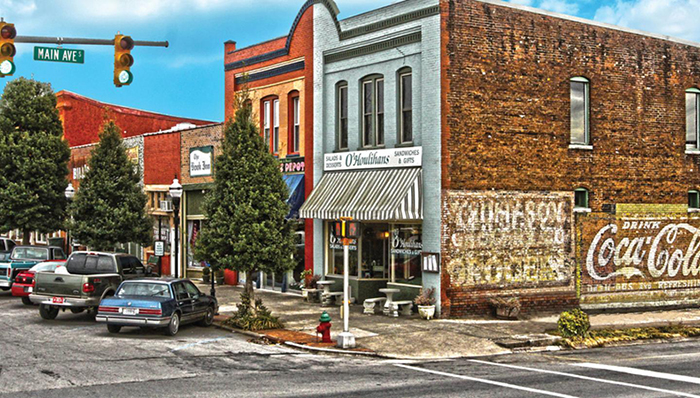 Main Street
Fayetteville Attractions:
Antiquing Trail - Downtown Fayetteville has the most antique shops per square mile in this geographic region.

Stone Bridge Memorial Park - Located at the corner of Hwy 431/231 & Thornton Taylor Parkway. See a replica of the historic Stone Bridge and Pristine Cascade.

Historic Downtown Fayetteville Square - This unique downtown square has unique gift shops, and whittlers at work on the courthouse lawn. Shop in the several famous stores featured in Southern Living Magazine and on prime time talk shows.

Cahoots Restaurant - Dining "behind bars" in a turn-of-the century jail cell. This restaurant has been featured in national publications including Southern Living.

East College Street - See a Post-Victorian era 2-story frame house. Built by Robert Mason, the house is located on a lot that was originally part of the McGuire-Lamb property next door. See other historic homes as well.

East Washington Street - See the Bright-Wright-Rees House – ca. 1858. This is an Italiante 2- story brick house listed on the National Register. Enjoy viewing more historic homes on this street.

Fayetteville Lincoln County Museum - Located in the Old Borden Milk Plant. The museum has a large collection of items from days gone by, including military, medical, and agriculture exhibits. Also see an enormous arrowhead collection.

Fayetteville Square - Fayetteville was perhaps the second county seat in the United States to be laid out by legal mandate with a courthouse square at its center.

Historic Mulberry Avenue - View a Greek Revival home built by Reverend Matthew Martin Marshall, minister of the First Presbyterian Church during the Civil War along with many other historic homes.

Historic South Elk Avenue - View a Gothic Revival home listed on the Historic Register along with a number of other historic homes.

North Elk Avenue - See the Hugh Bright Douglas-Don Wyatt House, 1894-1895. Queen Anne with Steamboat Gothic style 2-tier wrap-around porches, 2 ½ story frame, and listed on the National Register. View other historic homes as well.


Fayetteville Festivals:

Fayetteville Host of Christmas Past - Downtown Fayetteville. During the second weekend in November, Fayetteville becomes the setting for a Norman Rockwell Painting. This festival brings thousands of visitors to enjoy an old fashioned high tea, trolley rides, strolling musicians, a candlelight walking tour, and much, much more.

Lincoln County Fair - Held the second week in September. Activities include a demolition derby, harness races, agriculture exhibits, carnival rides, and top name entertainment.