Gatlinburg, Tennessee

Gatlinburg, Tennessee, with a population of 3,386, is located in Sevier County, TN and 32.7 miles from Knoxville. Located at an entrance to Great Smoky Mountains National Park, Gatlinburg is a popular tourist town. It is a favorite destination for honeymooners, families on vacation, church retreats, corporate events, and family reunions.

McGhee Tyson Airport (TYS) is located 27.62 from Gatlinburg.

Gatlinburg, Tennessee was established in the early 1800s.
In this mountain area, you will discover arts and crafts festivals, beautiful parks alongside a mountain river, hundreds of unique shops, restaurants, and shopping villages.

The Gatlinburg Convention Center is located downtown.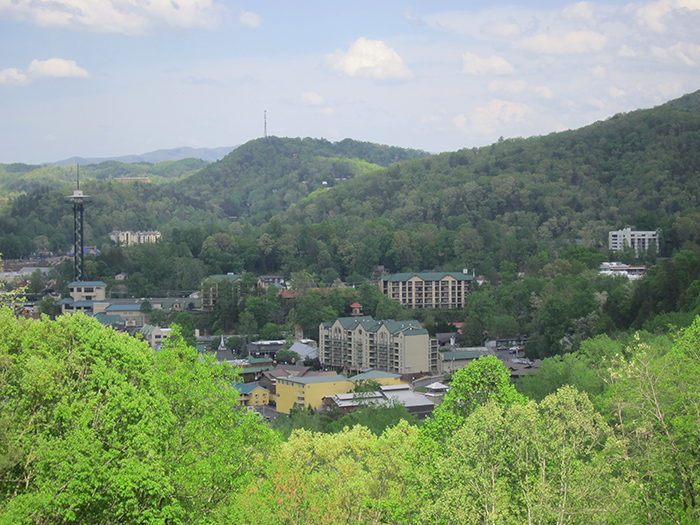 Gatlinburg; image by Jeaneane Payne

Gatlinburg Cabins

Reveneurs Cabin


Luxury Retreat


Private Mountain Getaway

Amazing Views

Logged Out

Brookside Cabin

Alone at Last

Cute Studio Cabin

Eagle's Nest

Timbertop Hideaway

David's Place

Sweet Country Cabin

Dancing Bear I

The River

Chubby Bear Retreat

Lover's Escape

Bear Claw Trail Chalet

Moonshiner's Hideout

Smoky Bears Playhouse

Cupid's Hideaway

Endless View

Gone Fishin'

Antler Ridge

Farmhouse 2 Condo

Mountain Views Condo

Gatlinburg Cabin

Blue Smoke Vistas

Studio Cabin

Moonshine Romance
Gatlinburg Attractions:

• Great Smoky Mountains National Park - Gatlinburg provides an entrance to Great Smoky Mountains National Park which is visited by over 11 million people annually. Here you'll see many kinds of wildlife, experience hiking, camping, fishing, kayaking, tubing, picnicking, and enjoy nature's finest!

• Arts & Crafts Tour - Nestled within an 8-mile loop of Smoky Mountain beauty and nostalgia are more than 90 quaint shops and restaurants known as the Great Smoky Arts and Crafts Community. Situated on the northeast edge of Gatlinburg, this area is the only zoned crafts community in the United States. During the weeks of September 30 through October 8, visitors to this community will experience "another time and place" as they enjoy the Gatlinburg Arts & Crafts Heritage Days Festival, a celebration of Smoky Mountain history, culture, and arts and crafts.

Visitors may whet their appetites at live demonstrations of candy-making, watch as ordinary pieces of wood are turned into works of art by whittlers and woodcarvers, and marvel at the intricate handiwork of mountain artisans as they handle the delicate tasks of quilting, broom making, and pottery-throwing. From there, visitors can relax in the candle shop showroom while hot wax dries in beautiful shapes around cotton wicks that have been hand-dipped in large vats. Visits to over 90 shops will fill shopping bags with traditional and contemporary crafts, handmade gifts, collectibles, and one-of-a-kind pieces. Trolleys run their regular schedules to shuttle guests from Gatlinburg to the Arts & Crafts Community.

• Ripley's Aquarium of the Smokies - View some of nature's most exotic undersea life at Ripley's Aquarium of the Smokies in the protective comfort of downtown Gatlinburg. The $42 million, 100,000-plus square foot marine attraction is home to thousands of fish and other types of aquatic life from around the world. More than 1.3 million gallons of water (mostly man-made sea water) accommodate the various exhibits and displays located throughout the facility.

• Christ in the Smokies - America's #1 Religious Attraction has become an American Treasure. See Greatest Story Ever Told in series of realistic life-size dioramas.

• The Village - Just past traffic light #6, adjacent to the Pancake Pantry, lies one of Gatlinburg's most memorable shopping experiences. Here you will find a collection of 27 unique shops and eateries set in a quaint European village atmosphere. The brick pathways, abundant landscaping and bubbling fountains provide a tranquil escape from Parkway traffic.


Gatlinburg Festivals:

• Smoky Mountain Springfest - During the three-month celebration that begins in March and continues through the second week in June, visitors witness the Smoky Mountain area transformation into spring. City streets overflow with baskets of beautiful blooming flowers and plants. Pansies, daffodils, tulips, mandevillas, bougainvilleas, lantanas, scaveolas and wave petunias are among the many varieties of flowers seen throughout Pigeon Forge.

• Smoky Mountain Winterfest is a county wide event which includes the cities of Gatlinburg, Sevierville, Pigeon Forge. See millions of Christmas lights, parades, and lots of special events.

• Spring Wildflower Pilgrimage - The Annual Spring Wildflower Pilgrimage is a great event in Gatlinburg, especially for hikers and nature lovers who love to see delicate wildflowers in bloom. Hosted by Great Smoky Mountains National Park, The University of Tennessee Botany Department and the Gatlinburg Garden Club, this seven-day program offers more than 150 different hiking tours of trails ranging from easy to strenuous, exhibitions, demonstrations, classroom lectures and delightful motor excursions into the wonderful season of spring in the Smokies.

• Gatlinburg's Smoky Mountain Tunes and Tales is a popular event in Gatlinburg. Imagine. It's early evening in the Smokies. You are strolling along the Parkway in downtown Gatlinburg and see a gathering of people just ahead. As you draw closer, you begin to hear the distinctive sounds of a dulcimer. Curious, you stop to watch and listen.

• Gatlinburg Craftsmen's Fair - Over 180 of the finest Craftspeople gifted in woodcarving, pottery, broom making, stained glass, metal work, basket weaving, calligraphy, jewelry and much more gather at the Gatlinburg Convention Center to offer their unique art for sale. Country and Bluegrass music performed daily.

• "Ghostwalk of Gatlinburg" - a walking night-time tour of Gatlinburg's most historic and "haunted" places which takes about one hour and is approximately one mile in length. The walk is lantern-led and guided by a local storyteller dressed in costume. Ghostwalk is not a haunted-house tour. It is a storytelling experience with a twist of murder and mayhem. We get your attention, but we don't chase you around with chainsaws. The stories feature a combination of local legends, history, superstition, folk tales and fiction. The tour's purpose is to revisit many historic and forgotten stories of murder and chaos that took place during the past 100 years in Gatlinburg and Great Smoky Mountains National Park. Tours leave nightly at 9, 10:30 and midnight. Reservations required.

• Smoky Mountain Harvest Festival - a county wide festival which includes the cities of Gatlinburg, Sevierville, Pigeon Forge. Festival will include decorating contest, special events, local craft shows and much more.

• Annual 4th of July Midnight Parade - Enjoy lighted floats, marching bands, and giant helium balloons. Parade begins at 12:01 a.m. on the 4th of July, which is one minute after midnight on July 3rd. For the 31st consecutive year, Gatlinburg will kick off America's Independence Day celebration with the nation's first parade, which will lead off at midnight to the cheers of 70,000 to 100,000 spectators. A tribute to the five branches of military service will be one of the many highlights. As soon as the street is closed, the parade route will come alive with pre-parade entertainers that will begin the excitement of what is to follow.

Giant helium balloons will soar through the skyline of downtown Gatlinburg, from red, white, and blue Stars to Alphonso the dragon, Humpty Dumpty, and a giant patriotic Eagle and All-Star Train. More than 100 volunteers will be signed on to help the balloons navigate the streets of Gatlinburg, with more than 100 entries of all types scheduled to appear. National entries such as Schwann Foods and Red Baron Pizza will bring in their Blaine Kern-designed floats.

• Taste of Autumn - Gatlinburg Convention Center. Live entertainment, live auction with cash bar. $25 per person. 5 p.m. to 8 p.m. This is a United Way fundraiser and features a variety of foods from many of the area's finest restaurants. For a donation of $25, the attendees will enjoy unlimited sampling from all the restaurants from 5 p.m. to 8 p.m. and have a chance to bid on some great live auction items. 100% of the proceeds go to the United Way of Sevier County.

Featured restaurants include: Hard Rock Café, The Lodge at Buckberry Creek, La Carreta, Ben & Jerry's Ice Cream, Ronnie Boys All American Hot Dog, Fermata Café, Gondolier of Gatlinburg, River Terrace, Cherokee Grill, Crawdaddy's, The Park Grill, Coffee Loft, Lineberger's, Damon's Grill, Nifty Fifties Café, Maui Wowi, Blaine's Bar & Grill, No Way Jose's, Calhoun's, Smoky Mountain Brewery, The Veranda Restaurant at Ripley's Aquarium, Dollywood, Fox & Parrott Tavern, Smoky Mountain Winery, Charles Richard Resources, Coca-Cola and many more.

• River Raft Regatta - Held July 4th. Starts at Christus Gardens bridge and finishes at the Aquarium bridge. Enjoy a fun, unmanned, floatable object race for the whole family. Unmanned, floatable objects are launched in the river and they compete for prizes. Arrive by 11:30 to enter and be eligible for prizes. River Road. FREE event.

• Gatlinburg Winterfest Kick-off & Chili Cook-off - Gatlinburg lights the city with millions of winter lights, an award winning chili contest, fireworks and entertainment. Held at Ripley's Aquarium Plaza & River Road Triangle.

• Arts & Crafts Community Thanksgiving Show - The Arts & Crafts Community Easter Arts & Crafts Show displays unique handcrafted wares made by members of the Great Smoky Arts & Crafts Community as they host their annual show at the Gatlinburg Convention Center.

• Tennessee Winter Special Olympics Games - Ober Gatlinburg. Held in January. Over 160 athletes with mental retardation will compete in Alpine Skiing, Snowboarding and Speed Skating in divisions based on age and ability.

• Cosby in the Park Festival - This free event is held at the Cosby Picnic Area and Amphitheater in Great Smoky Mountains National Park in May and features live entertainment, craft demonstrations, children's programs, history talks and guided hikes.

Cosby in the Park highlights the splendid spring atmosphere and presents a glimpse into the past by paying tribute to a previous way of life. Spring time in the mountains was difficult, but strenuous chores eventually gave way to a time for relaxation, when residents passed time by making music. Local residents also celebrated their rich Scotch-Irish heritage through traditional song and dance. The day's events feature bluegrass performances. In addition, there are performances of traditional Cherokee music and dance as well as a performance by the Dogwood Dulcimers.

Visitors are encouraged to bring a lunch and their own instruments and join in during the all day bluegrass "pickin' party." There are various craftspeople and musicians in attendance at Cosby in the Park.

• Fantasy of Lights Christmas Parade - Gatlinburg's Winterfest Celebration features the 31st Annual Fantasy of Lights Christmas Parade in downtown Gatlinburg. Millions of twinkling lights and more than 100 parade entries will be featured. This year is the 31st Annual Fantasy of Lights Christmas Parade and more than 80,000 people are expected to attend the event. More than 100 floats, VIP appearances by Santa Claus and his elves, marching bands, giant helium balloons, and corporate floats will be featured. There will be artificial snow, sparklers, dance teams, elves, walking inflatable costumes, clowns, horses, and marching bands.

The parade route begins at Traffic Light No. 1A on Highway 321 and continues to Traffic Light No. 10 at the Parkway and Ski Mountain Road. Limited bleacher seating is available in front of the parking garage at Traffic Light No. 3. Spectators are encouraged to arrive early to get a parking spot. Free parking is available at the Gatlinburg Park and Ride Lot located at the Spur Welcome Center at the entrance of Gatlinburg. Parking is also available at the Reagan Drive parking lot, the Aquarium parking lot and various additional parking lots in the downtown area.

• Gatlinburg's New Year's Eve Celebration - The entire city of Gatlinburg celebrates New Year's Eve in a big way with many restaurants and attractions offering special celebrations. Gatlinburg trolleys will run until 2 a.m.