Harriman, Tennessee

Harriman, Tennessee, population 18,283, is located in Roane County, TN., 18.4 miles from Oak Ridge, TN and 35.3 miles from Knoxville, TN.
The closest airport to Harriman is McGhee Tyson Airport (TYS).


Harriman Hotels >>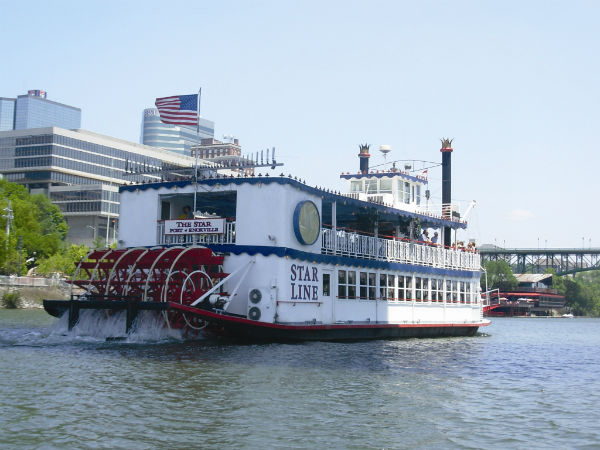 Knoxville riverboat

Harriman Attractions:

• American Museum of Science & Energy opened in 1949 in an old wartime cafeteria. It was originally named the American Museum of Atomic Energy. Its guided tours took visitors through the peaceful uses of atomic energy. The present facility, opened in 1975, continues to provide the general public with energy information. The name of the museum was changed to the American Museum of Science and Energy in 1978. Live demonstrations, videos and other programs are scheduled for the general public daily.

• Big South Fork Railway - Sit back and enjoy the breathtaking scenery of the Big South Fork National River and Recreation Area while the Big South Fork Railway train makes its way through deep gorges and hugs steep cliff lines to take you back into a bygone era of logging and coal mining. Located approximately 45 minutes from Clinton.

• Civil War Sites Tour covers significant Knoxville Civil War sites. Includes the Bleak House, Second Presbyterian Church, Crescent Bend, Cherokee Heights, West Wing of Union Lines, Pontoon Bridge Site, Fort Hill, Mabry-Hazen House, Confederate Cemetery, Forts Dickerson and Stanley, General Burnside Headquarters, Battery Wiltsie, Immaculate Conception Church, Third Creek Valley, National Cemetery, Fort Sanders, and UDC Monument.

• Frank H. McClung Museum is a general museum with collections in anthropology, archaeology, decorative arts, medicine, local history, and natural history. The exhibits document ways of life, cultural trends, and technologies from prehistoric times to the present day, and showcase much of Tennessee's past -- its geology, history, art, and culture. The McClung Museum is a special place -- a place of discovery, a place to learn about the world around us.

• Oak Ridge National Laboratory - ORNL is a multiprogram science and technology laboratory managed for the U.S. Department of Energy by UT-Battelle, LLC. Scientists and engineers at ORNL conduct basic and applied research and development to create scientific knowledge and technological solutions that strengthen the nation's leadership in key areas of science; increase the availability of clean, abundant energy; restore and protect the environment; and contribute to national security.

• Secret City Scenic Excursion Train - Turn the clock back to yesteryear and return to the heyday of passenger railroading with the Southern Appalachia Railway Museum's Secret City Scenic Excursion Train. Trains depart from the Heritage Center (formerly K-25) near Oak Ridge, Tennessee, an historic Department of Energy facility where research and development plunged the United States into the Atomic Age. The train winds along Poplar Creek and Highway 327 in the beautiful hills and valleys of East Tennessee. Additional route and facility history is available, as are views of a typical trip.

Each round trip travels approximately 14 miles and lasts about one hour. Trains are pulled by 1950's vintage Alco diesel locomotives. Seating is in an air-conditioned coach and a dining car, both restored from the 1940's era of passenger railroading. An open-air concession car has souvenirs and snacks for sale.

• Star of Knoxville is an authentic paddlewheeler with a capacity 325 passengers. The main deck seats 144 passengers and is fully enclosed, air conditioned, and heated for year-round comfort. The vessel is equipped with two (2) bars, a dance floor, band stage, and is exquisitely decorated for the most elegant dinner and entertainment available. If you don't feel like having the black-tie event, the atmosphere is functional as a jeans and shorts type of place for the family reunions and football parties. The Tennessee River is one of the most beautiful rivers in the east. While cruising, you will enjoy one of the most breath- taking views in Knoxville. Not only will you see some of the history of the river, you will most certainly be relaxed by the river's beauty.

• Zoo Knoxville - The Knoxville Zoo has been rated as one of the best zoos in America. It is open year round and offers special programs such as Bedtime with the Beasts. Bedtime with the Beasts is where fun and learning come together. The Bedtime with the Beasts program is offered to any organized group of 15 to 30 people ages six and up. Enjoy private tours, activities, and animal encounters. Bring your sleeping bag and spend the night at the Knoxville Zoo! It happens March through November for $30 per person.


Harriman Festivals:

• Christmas in Old Appalachia is held the first Sunday in December at the Museum of Appalachia with the annual Open House welcoming folks for an afternoon of old-time carols, wagon rides, pioneer demonstrations, gift shopping, and more. Admission to the entire Museum will be free that afternoon (but please bring a non-perishable food item for the Norris Area Food Bank). Activities will run from 1 to 5 p.m. on Dec. 3rd, with seasonal music in the Hall of Fame and auditorium. Old-time musicians, bluegrass bands, the Museum of Appalachia Band, and many other great local groups will perform throughout the complex. Also performing will be several area choirs and a community chorus.

School children decorating the tree in the Little Tater Valley Schoolhouse. Cabins are decorated in traditional Appalachian style, and demonstrations of woodcarving, spinning, open-hearth cooking, sawmilling, buck dancing, and sheep herding take viewers back to an earlier era. Visitors can ride a horse-drawn wagon, warm themselves with fried apple pies and sassafras tea, or challenge national champion Robert Butler to a game of checkers.

• Secret City Festival - The Secret City Festival is held in June and draws over 20,000 attendees. Record crowds dance to the oldies and croon along to their favorite tunes of yesteryear. During daytime festival hours, crowds gather at the BMX Bicycle Stunt Show, where festival-goers are entertained with flips, jumps, slides, and all kinds of other bicycle stunts. Tennessee State Parks bring their eagle and owl for folks to have their photos made with, and Oscar the Robot flirts, teases, and wins over crowds with his charm and wit.

• The World War II re-enactment is the largest multi-battle WWII event in the South. There are lots of antiques and collectibles vendors. The Children's Festival area features a Euro-bungy, Inflatable Slide, Mule and Wagon Rides, Rock Climbing Wall, free Game Zone and more.

• Windrock ATV Club Fall Ride - More than 250 ATV enthusiasts will ride the challenging trails of Windrock Mountain.