Hartford, Tennessee

Hartford, Tennessee, population 814, is located in Cocke County, TN. It lies on the border of Great Smoky Mountains National Park. Hartford is situated along the Pigeon River where whitewater rafting is abundant.
The closest airport for private planes is Gatlinburg Pigeon Forge Airport. Commercial flights are available at McGhee Tyson Airport (TYS) in Knoxville and at Asheville Regional Airport.

Hartford Hotels >>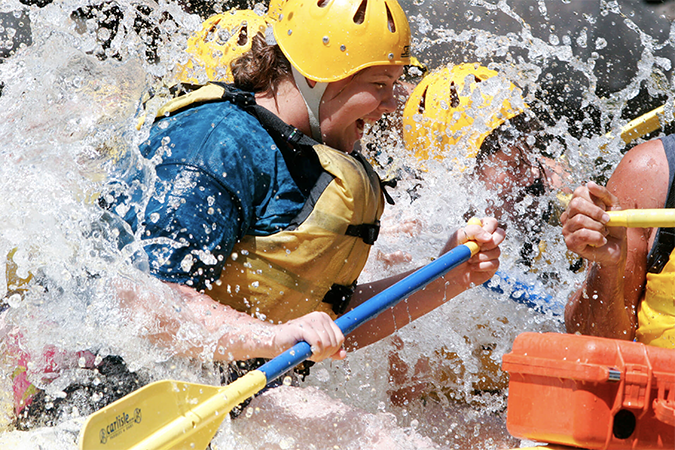 Whitewater Rafting; image courtesy of Rafting in the Smokies
Hartford Attractions:

Briarwood Ranch Safari Park features animals from around the world. On your scenic, four-mile safari through beautiful hills and pasture lands, you will experience animals from six continents.

Great Smoky Mountains National Park - Newport is situation on the boundary of the National Park. There are opportunities for hiking, fishing, whitewater rafting, ziplining, and much more.

Martha Sundquist Forest - The Martha Sundquist State Forest "Gulf Tract" is surrounded by the Cherokee National Forest on three sides and consists of one drainage system. The Forest is composed of mature mountain and cove hardwoods. A harvest rotation schedule was developed and followed closely by the previous owners and large streamside management zones, some as large as 80 acres, have been established. This tract is considered a wildlife management area and has special provisions for bear hunting. It will be used primarily for recreation, hunting, fishing, timber production, and demonstration.

Standing Bear Farm - In the heart of the Smoky Mountains surrounded by Cherokee National Forest lies Standing Bear Farm, a turn of the century multi-generational farmstead including the original homestead, barns, outbuildings and farmhouse. The outbuildings have now been converted to a bunkhouse and cabin where we offer rustic lodging to hikers and others interested in stepping back from today's hectic lifestyle to a time in America's past when life in rural backcountry Appalachia was considered the "good life". Standing Bear Farm is three miles North of the Great Smoky Mountains National Park and two hundred yards off of the Appalachian Trail. Lodging is available in a rustic bunkhouse or cabin, tent camping, authentic Tee-Pee, hot showers, laundry, free internet, phone, mail-drop, shuttle service, microwave, fire pits and gas grill. Items are available to resupply plus condiments.


Whitewater rafting trips available on the Pigeon River:


5 Rivers Adventures - Exciting whitewater adventures for the entire family. Guided fishing trips on the Big Pigeon River. Rafting and ziplining.

Big Bear Rafting - Experience the thrill and beauty of a guided whitewater rafting trip. Guides families, friends, and groups of adventurers down the Pigeon River in the Great Smoky Mountains.

Big Creek Expeditions - As one of the most popular rafting trips in America, the Upper Section of the Pigeon River offers guests the best introduction to a classic Southeast whitewater trip. Trips on this section offer views of the mountains and the historic hydroelectric powerhouse feeding water into the river.

Outdoor Rafting Adventures - Offers two types of rafting trips. The lower section of the Pigeon River is ideal for families with smaller children, as young as three years old. The upper section of the Pigeon River has the thrilling class 3 and 4 rapids. Both trips are about 2 hours.

Rafting in the Smokies - Float down the lower section of the Big Pigeon River, which has calm Class I and Class II rapids. Accompanied by one of Rafting in the Smokies friendly, professional river guides, your family and friends will be escorted down 6 miles of this casual and laid back section of the river. The scenery surrounding the upper and lower sections of the Pigeon River is just as breathtaking as the rapids.

Rapid Expeditions - offers two different rafting trips in the Smokies. The Upper Pigeon River is full of Class I-IV rapids for thrilling rides when the river is flowing. The Lower Pigeon River is a calmer section of water where you'll encounter Class I-II rapids ... perfect for families with small children who still want to experience rafting.

Smoky Mountain Outdoor - Experience whitewater rafting and enjoy an exciting adventure as you romp through class III and class IV rapids. Inflatable kayaking is also offered.


Hartford Festivals:

Newport Harvest Street Festival - When thousands of people gather on the streets of downtown Newport the first weekend in October, organizers hope they will enjoy the traditions that have helped make the Newport Harvest Street Festival the "best community festival" for years! Long-standing favorites like arts and crafts, regional food and drinks, beauty pageants and old-time demonstrations are just a few of the showcased activities that have returned year after year.

Popcorn Sutton Jam - A special event to remember Marvin "Popcorn" Sutton (October 5, 1946 – March 16, 2009). He was an American Appalachian moonshiner and bootlegger. Born in Maggie Valley, North Carolina, he grew up, lived, and died in the rural areas around Maggie Valley and nearby Cocke County, Tennessee. He wrote a self-published autobiographical guide to moonshining production, self-produced a home video depicting his moonshining activities, and was later the subject of several documentaries, including one that received a Regional Emmy Award. Sutton committed suicide by carbon monoxide poisoning in March 2009, aged 62, rather than report to federal prison after being convicted of offenses related to moonshining and illegal firearm possession. Since his death, a new company and associated whiskey brand have been named after him.