Norris, Tennessee


Norris, Tennessee, with a population of 1,493, is located in Anderson County, TN and approximately 21.3 miles from Knoxville, TN.

The closest airport is Campbell County Airport (JAU), and McGhee Tyson Airport (TYS) in Knoxville.

Norris was founded in 1801.


Norris Hotels >>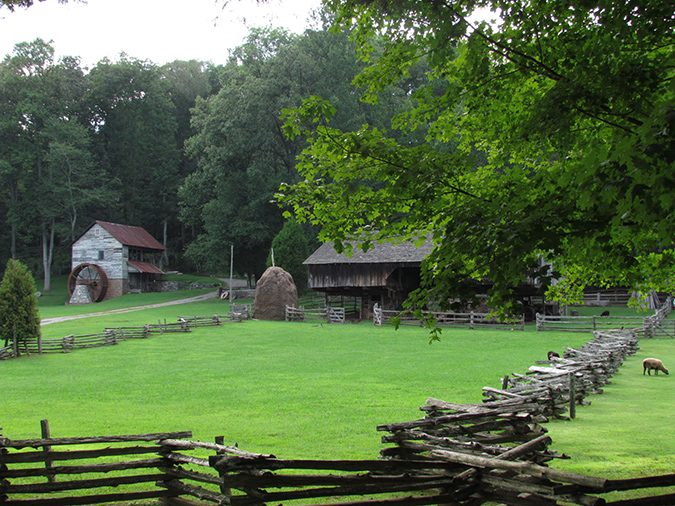 Museum of Appalachia in Norris, TN

Norris Attractions:
Museum of Appalachia is a living history museum — a pioneer mountain farm-village that lends voice to the people of Southern Appalachia through the artifacts and stories they left behind. It features 65 picturesque acres and a recreated Appalachian community complete with: 35 log cabins, barns, farm animals, churches, schools, gardens. Over 250,000 artifacts in 3 buildings, with vast collections of folk art, musical instruments, baskets, quilts, Native American artifacts, and more.

American Museum of Science & Energy opened in 1949 in an old wartime cafeteria. It was originally named the American Museum of Atomic Energy. Its guided tours took visitors through the peaceful uses of atomic energy. The present facility, opened in 1975, continues to provide the general public with energy information. The name of the museum was changed to the American Museum of Science and Energy in 1978. Live demonstrations, videos and other programs are scheduled for the general public daily.

Antique Market - offers fine furnishings, antiques and vintage wares.

Appalachian Arts Craft Center - Supports arts and crafts in Appalachia through education, sales, and community involvement.

Big South Fork Railway - Sit back and enjoy the breathtaking scenery of the Big South Fork National River and Recreation Area while the Big South Fork Railway train makes its way through deep gorges and hugs steep cliff lines to take you back into a bygone era of logging and coal mining. Located approximately 45 minutes from Clinton.

Civil War Sites Tour covers significant Knoxville Civil War sites. Includes the Bleak House, Second Presbyterian Church, Crescent Bend, Cherokee Heights, West Wing of Union Lines, Pontoon Bridge Site, Fort Hill, Mabry-Hazen House, Confederate Cemetery, Forts Dickerson and Stanley, General Burnside Headquarters, Battery Wiltsie, Immaculate Conception Church, Third Creek Valley, National Cemetery, Fort Sanders, and UDC Monument.

Clinton Antique Mall - Features over 70 dealers and three floors stacked with furniture and more. The mall is housed in an historic building which was once a hardware store. The building still has the original tin ceiling and hardwood floors.

Coal Creek Miners Museum - On display at the Coal Creek Miners Museum is the rich history of the miners that lived, worked and died in Coal Creek, Fraterville and Briceville, Tennessee. You will learn how the "free" miners fought against the convict lease system which ultimately ended the system in the southern states. You will also hear about a community that not only survived one mining disaster but two that killed almost every man in the community and young boys too.

David Hall Cabin - In 1780, twin brothers, David and Samuel Hall; fought together in the Battle of Kings Mountain, considered to be the "turning point in the South" of the Revolutionary War. A year later, the Revolutionary War ended and, although confrontations with Indians continued throughout much of the Carolinas and Tennessee, the brothers began thinking about a more peaceful future for themselves. In 1784 David Hall married. Hall served his country well as a soldier and an Indian spy and for it the government awarded him 428 acres in Tennessee. At about the same time, in 1795, Samuel Hall bought 100 acres in the Claxton, TN. area from Aquila Lowe. This marked the beginning of the Hall brothers in this area and the beginning of David Hall's log cabin that has stood the test of time for over 200 years. The cabin is located at 830 Old Edgemoor Lane, Clinton, TN.

Devil's Triangle - Nestled in the Cumberland Mountains, the Devil's Triangle is 45 miles of twist and turns. There are some straight aways alongside pastures fields but there are also steep switchback curves. You will experience approximately 1,000 feet in elevation change. It is the perfect trail to explore the rural mountains of East Tennessee. Highlights of the trail include Brushy Mountain Prison which housed James Earl Ray, assassin of Dr. Martin Luther King, until his death in 1998. The prison is also the only prison to have a natural wall, the side of the mountain, as one of the prison walls.

Frank H. McClung Museum is a general museum with collections in anthropology, archaeology, decorative arts, medicine, local history, and natural history. The exhibits document ways of life, cultural trends, and technologies from prehistoric times to the present day, and showcase much of Tennessee's past -- its geology, history, art, and culture. The McClung Museum is a special place -- a place of discovery, a place to learn about the world around us. As a part of The University of Tennessee, the Museum supports and participates in the University's mission to serve the state, region, and nation through scholarship, teaching, artistic creation, professional practice, and public service.

Historic Downtown Clinton - stroll the streets of Historic Downtown Clinton and see why it was rated in the top 10 antiquing districts in the country. Browse over 30 stores that specialize in antiques and unique gifts. While shopping, be sure to stop in one of the downtown diners or cafes and enjoy a delicious lunch. Historic Downtown Clinton is home to the Clinch River Spring Antique Fair and the Clinch River Fall Antique Festival. You won't want to miss these great events as over 100 antique vendors line the streets of downtown with antiques and vintage items. Visitors will get to enjoy live music, great food and fantastic shopping.

Lenoir Historical Complex - The museum contains artifacts from Early Americana which were collected for over 60 years by Will G. Lenoir and his wife Helen and donated by the Lenoirs to the State of Tennessee. The Lenoirs strongly desired that the rapidly, changing times not wipe out an appreciation of the hard work and ingenuity that were a part of everyday life. They searched for, bought and stored away artifacts to preserve an understanding of that life. It was not just the artifacts they collected, but also the stories of the people behind them and their use.

Norris Dam State Park - The park occupies more than 4,000 acres on the shores of Norris Lake and surrounds Norris Dam. There are six different trail systems that are located on both sides of the dam. Along the trails you will come across caves, scenic valleys, sparkling streams and wildflowers. The park also has deluxe and rustic cabins, two camping areas with a combined 75 camp sites, a full service marina, a swimming pool, a game room, tennis courts, a volleyball court, playgrounds, a laundry mat and a primitive camping which can be reserved for groups.

UT Arboretum - The UT Arboretum is a project of the University of Tennessee Forest Resources AgResearch and Education Center. It generally hosts more than 30,000 visitors annually. This 250 acre research and education facility has over 2,500 native and exotic woody plant specimens that represent 800 species, varieties, and cultivars.

Wind Rock Park - Windrock Park is the largest privately-owned off-road recreation area in the country with over 72,000 acres that include off-highway vehicle trails, hiking and mountain biking trails, a campground, cabins, and various types of events throughout the year! Trails are open 7 days a week, 365 days a year. You will see many picturesque views of East Tennessee's mountains and valleys and it is the perfect place to see the Buffalo Mountain Wind Farm which is comprised of 18 windmills, spanning 395 feet. Entry onto Windrock Park property requires a land use permit.

Zoo Knoxville has been rated as one of the best zoos in America. It is open year round and offers special programs such as Bedtime with the Beasts. Bedtime with the Beasts is where fun and learning come together. The Bedtime with the Beasts program is offered to any organized group of 15 to 30 people ages six and up. Enjoy private tours, activities, and animal encounters. Bring your sleeping bag and spend the night at the Knoxville Zoo! It happens March through November for $30 per person.

Star of Knoxville is an authentic paddlewheeler with a capacity 325 passengers. The main deck seats 144 passengers and is fully enclosed, air conditioned, and heated for year-round comfort. The vessel is equipped with two (2) bars, a dance floor, band stage, and is exquisitely decorated for the most elegant dinner and entertainment available. If you don't feel like having the black-tie event, the atmosphere is functional as a jeans and shorts type of place for the family reunions and football parties. The Tennessee River is one of the most beautiful rivers in the east. While cruising, you will enjoy one of the most breathtaking views in Knoxville. Not only will you see some of the history of the river, you will most certainly be relaxed by the river's beauty.
Norris Hotels >>


Norris Festivals:


A Candlelight Christmas - Traditional trees and hand-made decorations, typical of austere pioneer days, transform the Museum's authentic log buildings. Wander through the village and marvel at the simple treasures of their settlement days. In the one-room, dirt-floored "Dan'l Boone" cabin, strings of popcorn and cotton bolls circle a dormant tree; Paper chains and other ornaments trim the tree in the Little Tater Valley Schoolhouse.

Clinch River Fall Antique Festival - Annual Festival that is held in Historic Downtown Clinton.

Clinch River Spring Antique Fair - Over 100 Antique Dealers come to Clinton's Historic Downtown to present a fantastic Antiques and Collectibles Show. Representing more than 5 States, the antique dealers line Market Street and its side streets and alleys. The Fair is held from 9 am – 5 pm, rain or shine and is one of the best one-day antique shows in East Tennessee.

Days of the Pioneer Antique Show & Sale - Features over 60 of the finest 18th & 19th century Antique dealers in the country. Live Music, historic demonstrations, delicious food and more.

Fall Heritage Friday - See Historic Demonstrations. Listen to Traditional Music. Stroll the Museum Village Farm. Sample Scrumptious Southern Fare.

Haunts & History - Enjoy old-fashioned treats along the Pioneer Village trail, hayrides, a Pumpkin Patch, Storytelling, and Pumpkin Painting. Self-guided tours of the museum. Seasonal food selections. Demonstrations including an apple cider press, kettle corn, blacksmithing and more.

Independence Day Celebration & Anvil Shoot - Features historic demonstrations, old time music on the back porch, and patriotic celebrations.