Sevierville, Tennessee

Sevierville, Tennessee, with a population of 16,716, is located in Sevier County, TN. It lies at the foothills of Great Smoky Mountains National Park. A statue of country singer Dolly Parton, a Sevierville native, sits downtown next to the courthouse.

The closest airport is McGhee Tyson Airport (TYS).

Sevierville was founded in 1795.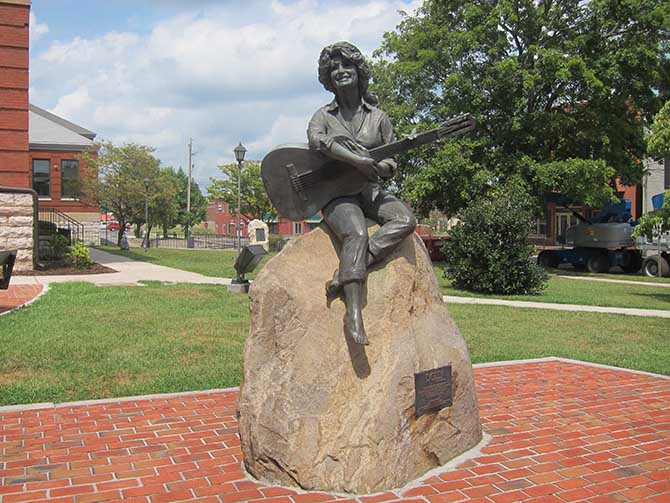 Dolly Parton statute; image by Jeaneane Payne
Sevierville Hotels

Music Road Resort

Dollywood's Dreammore Resort

Quality Inn & Suites


The Resort at Governor's Crossing


Holiday Inn Express & Suites

Clarion Inn Willow River

Club Wyndham Great Smokies Lodge

The Inn on the River

Baymont by Wyndham

Hampton Inn
Sevierville Cabins

RiseShine

Giddy Up "Western Themed Cabin"

Cuddly Bear

Sweet Dreams Cabin

Trout Ridge


Moon Willow


Studio Cabin

Over the Hills but Not Far Away!

Smoky Mountain Retreat

Cat's Meow

Private 1 Level Cabin

Bear-Themed Getaway

Firepit & Pool

Best "Mountain Memories"

Centrally Located Cabin

Shagbark Cabin

Cowboy Heaven

Cabin with Great Views

Kick Back Relax

Smoky Mountain Getaway

Clean, Cozy Cabin


Sevierville Attractions:
• Dollywood - One of the nation's favorite theme parks, Dollywood offers many attractions, music shows, rides, great food, and great fun. Dollywood opens the first weekend in April and operates thru December. Its annual crafts festival in October is something you won't want to miss.

• Dolly's Splash Country - The Butterfly Pool rides plunge down two 55' long slides. Float down a 1,500 foot "river" and get drenched cruising under a 200 foot tall waterfall cascading from above. There are children's pool, slides and activity center. Mountain Waves offers more than 25,000 square feet of ocean fun. Family sized rafts seat up to 5 people on a 700 foot ride.

• Eagle Mountain Sanctuary - Housed in a million cubic foot natural outdoor aviary, Eagle Mountain Sanctuary at Dollywood features the largest presentation of non-releasable bald eagles in the country.

• Forbidden Caverns - This is one of America's most spectacular caverns. Visitors are provided with an entertaining and educational tour past sparkling formations, towering natural chimneys, numerous grottos and a crystal clear stream. Special lighting effects, a stereophonic sound presentation and well-trained tour guides add to your experience.

• Great Smoky Mountains National Park - only a few miles from Pigeon Forge, is visited by over 11 million people annually. Here you'll see many kinds of wildlife, experience hiking, camping, fishing, kayaking, tubing, picnicking, and enjoy nature's finest.

• Hatfield & McCoy Dinner Show - Become part of the longest running feud in history and help the Hatfields and McCoys try to settle their differences mountain-style. Whether you're city-folk or country cuzins, you'll love the singing and dancing, mighty feats of strength, jaw dropping stunts and side-splitting comedy. Plus you'll love the incredible country cooking.

• Hollywood Wax Museum - Your brush with fame starts here! You'll rub elbows with Hollywood luminaries and laugh it up while posing for your own inspired pictures. Props are provided to make it even more fun! Imagine you pumping iron with Hollywood heavyweights, taking the stage with singing superstars, or even posing for the paparazzi at a movie premiere.

• Southern Gospel Music Hall of Fame - Pays tribute to Southern Gospel artists who have shaped and influenced Southern Gospel music. The facility is located at Dollywood.

• Titanic Museum Pigeon Forge - The World's Largest Permanent Titanic Museum Attraction in Pigeon Forge, Tennessee provides visitors with the ultimate Titanic experience the moment they step aboard the massive, ship-shaped structure. For two hours, guest passengers will be swept up in the excitement, wonder and consequences of the Titanic story. See More than 400 priceless artifacts and treasures on two decks, walk the Grand Staircase, sit in a full-sized lifeboat and hear actual survivor stories, touch an iceberg, dive to the wreck site on a film expedition, and more.

• WonderWorks - WonderWorks, is a fun-filled, interactive entertainment center featuring a seemingly endless variety of unusual hands-on-activities. WonderWork's lobby appears to be completely upside down. To enter, guests must be inverted for proper alignment. Inside this 82-foot tall, classically styled laboratory building, visitors will be able to experience the trembling of earthquakes, gain the feeling of defying gravity, and surround themselves in adventures crafted by some of the attraction industry's most imaginative storytellers. From the strange Mysterby Lab and the Physical Challenge arena to the Visual Distortion Lab and Illusions Gallery, WonderWorks will present a memorable series of more than 100 one-of-a-kind experiences.


Entertainment:
• Fiddlers' Feast - Fiddlers' Feast Mountain Legacy Supper Show is a 1000 seat dinner theater. Its shows are themed on the food, music, history, and culture of the Smoky Mountain area. The feast is real hickory wood grilled in the old time ways, and the serving of the guests is also done in a unique and entertaining way by the entertainers as part of the overall experience. The show itself stays true to the heritage and tradition of the Smokies, combined with a lot of humor performed by very selective entertainers that have been chosen from all over the eastern half of the United States.


Shopping:
• Walden's Landing - Walden's Landing offers 23 unique specialty shops; restaurants including Calhoun's, Atlanta Bread & Company and The Smoky Mountain Brewery; a 36-hole interactive miniature golf course and free live performances. Located in Pigeon Forge, this beautiful shopping village offers something for everyone.
• Red Roof Outlet Mall
• Tanger Factory Outlet Mall
• Five Oaks Outlet Mall

Sevierville Festivals:

• Smoky Mountain Springfest - During the three-month Smoky Mountain Springfest celebration that begins in March and continues through the second week in June, visitors witness the Smoky Mountain area transformation into spring when city streets overflow with baskets of beautiful blooming flowers and plants. Pansies, daffodils, tulips, mandevillas, bougainvilleas, lantanas, scaveolas and wave petunias are among the many varieties of flowers seen throughout Pigeon Forge.

• Dollywood KidFest™ - Dollywood KidFest™ is the South's Largest Children's Festival. You have to see it to believe it at Dollywood's KidsFest™ as the new show "Big Cats & Magic" brings majestic cats and grand illusions to Dollywood. Watch as the unthinkable magically appears on stage at Dollywood's KidsFest! For summertime family fun in the Great Smoky Mountains, Dollywood is the place to be with special shows like Clifford the Big Red Dog™ LIVE stage show, attractions like SpongeBob SquarePants™ turbo action ride and a variety of special activities just for kids—and the kid at heart.

• Dollywood's National Music and Harvest Festival - Four weeks of free Southern gospel concerts, visiting crafters, beautiful autumn décor and fantastic foods all add up to one thing—Dollywood's National Gospel & Harvest Celebration. Enjoy the splendor of fall in the Smoky Mountains with the sounds of Southern gospel music's biggest names.

• Dollywood's Smoky Mountain Christmas - Dollywood's winter wonderland of more than 3 million holiday lights sets the stage for the premiere of Dollywood's Babes in Toyland, Dollywood's most elaborate stage production ever. Enjoy a family holiday like no other with heartwarming Christmas shows, holiday foods, and thrilling rides.

• Smoky Mountain Winterfest - A county wide event, which includes cities of Gatlinburg, Sevierville, Pigeon Forge. See millions of Christmas lights, parades, and lots of special events.

• Wilderness Wildlife Week - Wilderness Wildlife Week in Pigeon Forge begins with a series of outdoor themed activities designed to connect visitors with the outdoor world of the Great Smoky Mountains. During Pigeon Forge Wilderness Week, nearly 100 experts on nature and the great outdoors host walks, hikes, seminars and lectures on a wide variety of topics, including Smoky Mountain history and plant and animal life. A number of Wilderness Wildlife Week programs are designed for children.

Guided Wilderness Week hikes through the Smokies range from easy, relaxed walks to more strenuous, multi-mile treks. Topics vary with individual hikes. To properly prepare for daylong outings, hikers are encouraged to bring gloves, head cover, rain gear, lunch or trail snacks, a flashlight and an extra pair of socks.

Wilderness Wildlife Week offers activities for all ages and attracts thousands of nature lovers to Pigeon Forge. The International Festivals & Events Association has recognized Pigeon Forge Wilderness Week for its environmental and educational efforts.

Wilderness Week activities are offered free of charge. The beautiful LeConte Center is the headquarters for the event.

• Smoky Mountains Storytelling Festival - Where can you find a cowboy, a liar and a Grammy-winning musician all on the same stage? You can hear them all in Pigeon Forge during the 15th Annual Smoky Mountains Storytelling Festival™. Cowboy poet Waddie Mitchell, champion liar Bil Lepp and Grammy winner David Holt are just some of the talented storytellers scheduled to take part in this Winterfest event. In addition to concerts and workshops, other Storytelling highlights include Haunts 'n' Haints Trolley Tales and the National Youth Storytelling Showcase.

• A Mountain Quiltfest™ - A Mountain Quiltfest attracts over 20,000 visitors from around the country to the Pigeon Forge area. Hosted by the Piecemakers and Sevier Valley Quilters Guilds, the spring event brings quilting enthusiasts to compete in a world-renowned, multi-category quilt show. The Southeast Tourism Society awarded "Festival of the Year" to Mountain Quiltfest in 2004 for events with attendance of less than 100,000. While Quiltfest was recognized by the STS as a "Top 20 Event" on numerous occasions, 2004 marked the first time the event was named "Festival of the Year." A Mountain Quiltfest offers a unique opportunity for the display and viewing of creative quilts as well as classes and lectures taught by some of the nation's most recognizable names.

• Festival of Nations™ - Celebrate cultural traditions at the Festival of Nations™ multi-cultural spring festival. Enjoy international music from the world's best musicians. Journey 'round the globe without leaving the Smoky Mountains when you visit Dollywood's Festival of Nations, a six-week international music festival celebrating music, dance, art and food from around the world. Enjoy more than 200 international performers with seven first-time and five returning groups of entertainers, including the best dancers, singers, musicans and acrobats! Experience Festival of Nations and live entertainment.

• Smoky Mountain Harvest Festival - A county wide festival, which includes cities of Gatlinburg, Sevierville, Pigeon Forge. Festival will include decorating contest, special events, local craft shows and much more. For more information call 865-436-0500.


Sevierville Hotels >>